Biffa (BIFF) reinstates dividend after improved half year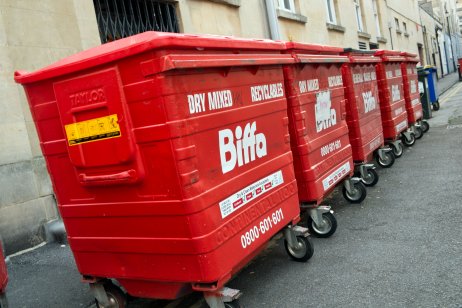 UK waste management company Biffa has reinstated its dividend after reporting stronger half-year numbers, with adjusted operating profit returning to pre-pandemic levels.
Despite the improved first-half numbers, the Biffa stock price fell more than 10% in mid-morning London trading to 355p.
In its statement to the London Stock Exchange, the company accepted it faced challenges ahead and said it was taking decisive steps to mitigate the impact of supply chain disruptions and HGV driver shortages. It said it had significant pricing flexibility to enable mitigation of cost inflation.
It would seem the market was factoring these challenges in - resulting in a significant share price dip.
In its half-year report for the 26 weeks up to 24 September, Biffa showed first-half adjusted operating profit of £45.4m ($61.2m, €53.9m) compared to £9.7m for the same period a year ago, and net revenue was up 37.9% at £632.8m from £458.8m.
The company declared an interim dividend of 2.20p a share – there was no payment a year earlier – which is slightly lower than the 2.47p a share dividend paid pre-pandemic.
Easing of lockdown
Biffa said its trading performance in the first half recovered well following the easing of lockdown restrictions. In the first quarter, industrial and commercial volumes recovered to 97% of the level seen the same period two years ago (pre-pandemic). Further recovery followed in the second quarer, with Biffa ending the first half at 103% of levels reported two years ago.
Commenting on the latest numbers Michael Topham, CEO Biffa, said: "During the first half of the year we have successfully restored Biffa's adjusted operating profit to full-year 2020 levels, managed the impact of the supply chain challenges that are affecting the entire economy, and continued to make good progress in delivering our strategic priorities."
He added: "While like all businesses we are currently experiencing some cost inflation, most of our business has a level of pricing flexibility meaning we are well placed to mitigate these pressures.
"Our significant investment programme across circular economy infrastructure projects has continued at pace, including commissioning our new plastics recycling facilities, integrating recent collections acquisitions, opening new surplus redistribution outlets and continuing construction of our energy recovery facilities.
"Together these investments will provide the UK with essential green economy infrastructure and services, while giving Biffa a solid platform for sustainable growth."
Read more: UK's heavy goods vehicle market declines by 8.4%