BHP Billiton (BHP) stock forecast: Where next for BHP?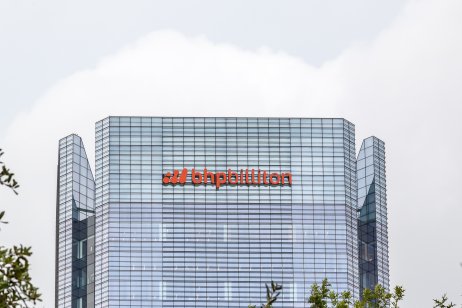 Mining giant BHP Billiton (BHP) is hoping to buy OZ Minerals after its target's board intimated it would recommend shareholders accept the revised price. Mid-November's increased offer of AUD28.25 ($18.98) a share values the Australian mining and exploration company at AUD9.6bn.
But does the deal make sense for BHP investors? In this BHP stock forecast, we examine the company's recent results and reveal what analysts are expecting for BHP stock.
What is BHP?
BHP is one of the world's top producers of commodities, including iron ore, copper, nickel and metallurgical (steelmaking) coal. Its strategy is to deliver "long-term value" and returns via a portfolio of "world class assets", operating assets exceptionally well and maintaining a disciplined approach to capital allocation.
"We're focused on the resources the world needs to grow and decarbonise sustainably," BHP has
stated
.
BHP had been listed in Australia and the UK since 2001, following its merger with Billiton. However, in August 2021, the company announced it was abandoning its UK dual listing and switching to a single Australian listing.
The departure from London dealt a blow to investors – particularly its effect on UK dividends, according to recent data from the Link Group. It found UK dividends dropped 8.4% to £31.4bn in the third quarter of the year, with the figures "impacted heavily" by the loss of BHP from the London Stock Exchange.
"If we adjust for this effect, dividends were instead up 1.0%," it added.
Separately, BHP Group Limited American depositary receipts (ADRs) are traded on the New York Stock Exchange (NYSE). The ticker symbol is BHP.
What is your sentiment on BHP?
Vote to see Traders sentiment!
Stock price analysis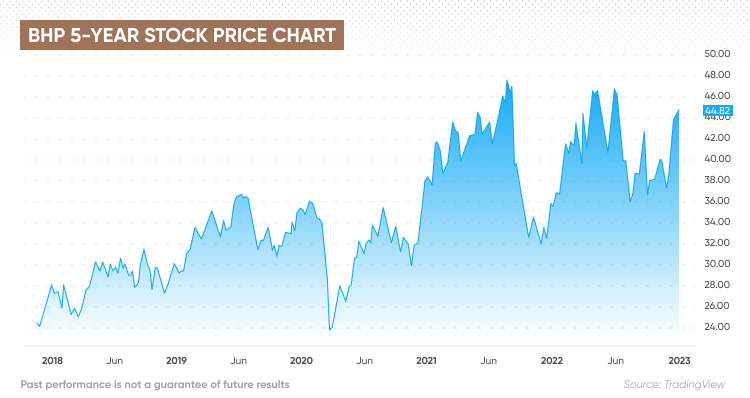 Any BHP Billiton stock forecast must consider the recent performance of the shares.
The BHP stock price has risen almost 6% in 2022, from AUD42.38 at the start of January to AUD44.28 at market close on 29 November.
Over the past year, the stock has seen a low of AUD36 and a high of AUD53.17, while it's risen 65% over the past five years.
Latest news
On 18 November, BHP submitted a revised non-binding indicative proposal to the board of OZ Minerals Limited to acquire 100% of the business for AUD28.25 per OZL share.
"This offer price represents the best and final price BHP is willing to offer under the Revised Proposal, in the absence of a competing proposal," it stated.
BHP also noted that the OZL Board has confirmed it intends to unanimously recommend the proposal to shareholders. The revised price corresponds to an enterprise value of AUD9.6bn. Ken MacKenzie, BHP's chair, said:
"BHP's proposal would provide value to BHP shareholders by increasing exposure to future facing commodities, attractive synergies and adding to our pipeline of growth options."
Latest earnings
BHP announced profits from operations of $34.1bn in its financial results for the full year ended 30 June 2022. This was up 34% on the previous year.
It also reported underlying earnings before interest, tax, depreciation and amortisation (EBITDA) of $40.6bn at a record margin of 65% for continuing operations.
Net operating cash flow was reported at $29.3bn and record free cash flow at $24.3bn for continuing operations, reflecting "higher coal and copper prices" and disciplined cost control.
The board announced a final dividend of $1.75 a share, which includes an additional amount of US$0.60 per share above the 50% minimum pay-out policy. This was positive news for anyone looking at the BHP Billiton stock forecast for the next few years.
BHP CEO Mike Henry attributed the company's results to "strong operational performance and disciplined cost control".
"BHP's total economic contribution, including payments to employees, suppliers, communities, governments and shareholders totalled $78.1bn," he said.
Uncertainty ahead
However, Henry acknowledged the challenging backdrop:
"BHP enters the 2023 financial year in great shape strategically, operationally and financially, and well prepared to manage an uncertain near-term environment."
The CEO also expected China to emerge as a source of stability for commodity demand in the year ahead, with policy support progressively taking hold.
"At the same time, we expect to see a slowdown in advanced economies as monetary policy tightens, as well as ongoing geopolitical uncertainty and inflationary pressures," he added.
Henry believed direct and indirect impact of Europe's energy crisis are a particular concern:
"Tight labour markets will remain a challenge for global and local supply chains. Waves of Covid-19 infection continue to occur in the communities where we operate, and we are planning accordingly."
Future for global mining
Global miners are facing plenty of challenges so the pressure is on for them to find solutions, according to a study by accountancy firm PwC. Its report, Mine 2022 A critical transition, concluded that it wasn't clear how long the big firms could continue their record run.
"Our forecast sees revenues growing, but rising costs are putting pressure on margins," it stated.
The report also identified four key areas of focus:
Evaluating their exposure to critical minerals – and working out where they need to be.

Identifying opportunities to own more of the supply chain or partner with end users.

Deploying capital and cash flow strategically.

Building trust with stakeholders.
"The miners that can successfully address these challenges will be best positioned not only to navigate the changing market dynamics but also to create value and to benefit from the rapidly increasing demand for critical minerals and the energy transition."
BHP Billiton stock forecast: Where will the price go next?
So, what are the BHP Billiton stock predictions of analysts?
As of 29 November, the stock was a 'moderate buy' based on the views of 14 analysts compiled by TipRanks, although opinions were divided. Four rated it a 'buy', with the remaining 10 having 'hold' recommendations.
Their BHP Billiton stock forecast for 2023 consensus view was that the stock price could slip to AUD42.81, which would represent a 4.54% fall from the Aud44.82 closing price on 29 November.
There was a degree of disparity in the predictions, with the highest coming in at $47.50, while the lowest BHP Billiton share price forecast was $35.50.
Any BHP Billiton stock forecast for 2025, meanwhile, would have to realistically include the potential contribution of OZ Minerals.
Jon Mills, an equity analyst at Morningstar, had a fair value estimate of AUD36 on BHP stock – and this hasn't changed since the enhanced offer was made for OZ Minerals.
"BHP's offer is a bet on copper and nickel, with a side bet on Australia's relatively stable geopolitics. It also reflects a relatively modest pipeline of growth opportunities for BHP," he wrote in his BHP stock forecast on 17 November, 2022. "It also reflects a relatively modest pipeline of growth opportunities for BHP."
He cited that Oz Minerals' Prominent Hill and Carrapateena mines are both close to BHP's Olympic Dam, which opened up the potential for synergies with infrastructure.
"BHP wants to increase its exposure to metals such as copper and nickel, which are likely to benefit from increased demand for use in renewables and electric vehicles as the world attempts to decarbonise and get to net zero," he added.
An analysis from Hargreaves Lansdown in August examined where the company's performance had come from during 2022.
"Iron ore and copper might make up 80% of BHP's sales, but it's the coal portfolio that's been the real driver of profit and cash flow over the last year," it stated. "A shift to high quality coal meant BHP was able to fully capitalise on higher prices, more than offsetting some weakness in iron ore."
Note that analysts' predictions can be wrong. Forecasts shouldn't be used as a substitute for your own research. Always conduct your own due diligence before trading. And never invest or trade money you cannot afford to lose.
FAQs
Is BHP Billiton a good stock to buy?

Whether BHP is a suitable investment depends on your own investment objectives – and the opinion based on your own research. However, it's important to reach your own conclusion of the company's prospects and likelihood of achieving analysts' targets. Always conduct your own due diligence before trading. And never invest or trade money you cannot afford to lose.
Will BHP Billiton stock go up or down?

No-one can say for sure. As of 29 November, the consensus view of analysts compiled by TipRanks suggested the stock could slip to AUD42.81, which would represent a -4.54% fall from the AUD44.82 closing price on 29 November.

However, these predictions could be wrong and have been inaccurate in the past. Always do your own research before making any investment decisions. Remember to never invest money you can't afford to lose.
Should I invest in BHP Billiton stock?

That's your decision – and one that must be based on a combination of your investment objectives and opinions about the stock's future prospects. Remember, past performance does not guarantee future returns. And never invest or trade with money you cannot afford to lose.