BetaShares ETFs give Australians access to global EV market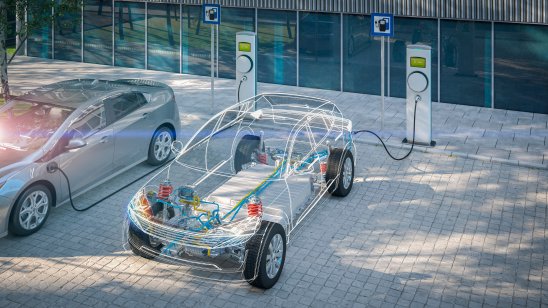 The soaring popularity of electric vehicles, digital payments and online gaming has prompted exchange-traded funds (ETF) specialist fund manager BetaShares to launch three new thematic ETFs for the Australian market.
Two of them – BetaShares Electric Vehicles and Future Mobility ETF (DRIV) and BetaShares Future of Payments ETF (IPAY) – will debut on the Australian Securities Exchange (ASX) on Wednesday.
"We find that payments, online gaming and autonomous vehicles are three key themes in terms of the overall overarching, megatrend sphere," says Blair Modica, director at BetaShares, in an interview with Capital.com.
Exposure to automotive technology
BetaShares' DRIV ETF will provide investors with exposure to up to 50 leading automotive companies from across the world. With automotive technology companies under-represented in the Australian market, DRIV looks to give Australians exposure to one of the hottest sectors of the present day.
Electric vehicle bellwether Tesla, ride-hailing pioneer Uber Technologies, Lamborghini-owner Volkswagen and Chinese electric vehicle start-ups NIO, Li Auto and Xpeng are some of the stocks that DRIV will have exposure to.
DRIV will track the performance of the Solactive Electric Vehicles and Future Mobility Index. Over the last three years, the index has returned over 36% per annum, according to BetaShares.
What is your sentiment on BTC/USD?
Vote to see Traders sentiment!
Diversification benefits of ETFs
Modica says investing in thematic ETFs like DRIV and IPAY will help investors diversify risk over a number of different companies while betting on the theme a company may represent.
"It's allaying the fears of one stock melting down, investing in a number of securities through a thematic trade, but having conviction that that's actually going to perform over the long term, potentially above the market return," adds Modica.
Only 42% of DRIV's holdings will consist of automobile manufacturers, while the rest of DRIV's holdings will be distributed among auto ancillary companies, semiconductor and electric equipment makers, road and rail institutions and chemical producers.
Investing in the new normal
The post-pandemic world has been characterised by massive inflows to capital markets on the back of free-flowing liquidity and a retail investing boom. Thematic ETF investing popularity has soared with funds under management growing 65% year-on-year in 2021 to AUD3.8bn ($2.7bn) as at the end of October, according to BetaShares.
Sydney-based BetaShares has been on the forefront of this movement by offering interesting thematic ETFs to Australian investors, catering to "megatrends" such as cybersecurity, cryptocurrency, artificial intelligence and climate change innovation.
In the new normal, online retailing has been a clear winner due to social distancing obligations. Digital payment companies have naturally benefitted from this reality.
Investors familiar with digital payments
With IPAY ETF, BetaShares will provide investors with exposure to global digital payment companies such as Elon Musk-founded Paypal, Jack Dorsey-managed Block and global payment facilitators Visa and MasterCard.
Modica says the familiarity and everyday use of solutions provided by digital payment companies such as Afterpay, Visa and MasterCard is a big draw for investors.
Recognisable names such as Visa, Mastercard, PayPal and American Express make up the top weightage in IPAY, with all four companies contributing over 6% each to IPAY's portfolio.
BetaShares Future of Payments ETF (IPAY)
IPAY will track the performance of the Nasdaq CTA Global Digital Payments Index. Over the last three years, the index has returned nearly 18% per annum, however it is down 3.6% over the past one year, as of 13 December.
Modica says a glut of information available to retail investors today is helping the company make informed investing decisions and thematic ETFs have coupled with this increased financial aptitude to enable retail investing into familiar sectors.
"I think that's why thematic investing is becoming very popular because you can invest with your ideals in mind, and have a reasonable trade in the marketplace. Whereas 10 to 15 years ago, ETF vehicles weren't as sophisticated, you couldn't take that thematic trade," he says.
Online gaming ETF in the cards
BetaShares Video Games and Esports ETF (GAME) is expected to list in early 2022.
This will have exposure to a number of interesting companies from across the globe including Hong Kong-based tech heavyweight Tencent Holdings, Japan-based Super Mario Bros developer Nintendo and the world's largest video game publisher Activision Blizzard.
BetaShares says there are no key gaming or e-sports companies listed in Australia, thereby GAME will be an investment gateway for keen investors as well as gaming enthusiasts.
ETF brings metaverse exposure
Exposure to gaming companies will also enable investors to be at the front line of the development of the metaverse.
About one-fifth of US-based Roundhill Investments' popular Roundhill Ball Metaverse ETF is made up of gaming companies, with Tencent Holdings among the top 10 holdings.
Modica tells Capital.com that BetaShares is currently working on regulatory approvals to list its bitcoin and ethereum ETF in the new year.
Upcoming crypto ETF
When asked why investors would buy a cryptocurrency ETF instead of getting exposure to it directly, Modica says security and ease of access are the main reasons why it "makes sense to have a bitcoin and ethereum ETF" listed on the well-regulated ASX market.
"So rather than needing to use these exchanges (crypto exchanges), you can log on to your trading account and purchase a bitcoin or ethereum investment vehicle via these ETFs to be able to buy and sell on the market.
"And I think for an investor that's not familiar with cryptocurrency, that makes a lot of sense," adds Modica.
Read more: No fallen angels for Fairlight as it hunts quality small caps