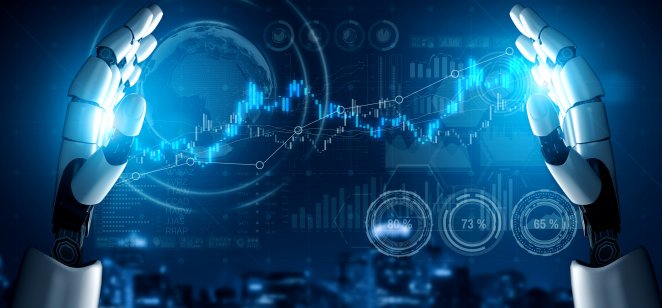 Content
Stocks in the technology sector have been on a rollercoaster in 2021 after a strong rally last year. They fell sharply in late February and early March, with the technology-heavy NASDAQ 100 Index (US100) dropping by as much as 10.5%.
A rise in US Treasury yields in February prompted investors to rotate their money out of high-growth tech stocks. The index has since risen by around 12% from the low, reaching a record closing high of 14,138.78 on 26 April.
The recent volatility has investors asking, are tech stocks a good investment? Are there still gains ahead after a stellar 2020?
In this article, we look at some of the most promising tech stocks and the outlook for the rest of 2021.
Best tech stocks for 2021: 6 companies to consider

Even with industrial and financial stocks gaining favour among investors, individual technology stocks continue to show strong upside potential. Here are Capital.com's picks for the top six tech stocks to watch in 2021.
E-commerce giant Amazon received a slew of analyst rating upgrades after it beat estimates for first-quarter earnings. At least 21 reiterated their buy ratings and/or boosted their price targets, making Amazon one of the best technology stocks to buy now. All 21 analysts have price targets above $4,000 per share, data from MarketBeat shows, indicating an upside of at least 15% from the share price of just under $3,500 per share at the end of April.
Analysts at Jefferies said: "Amazon delivered accelerated revenue growth in its highest-margin and most valuable businesses (AWS/ads), while maintaining elevated growth in core retail."
"We estimate 2Q sales guidance Implies faster core retail growth than 2019 levels despite facing the toughest comparison of the year, underscoring our view that e-commerce adoption is not slowing. We remain buy-rated given attractive growth-adjusted valuation and our expectation for further upside to estimates."
Analysts at Morgan Stanley note that the shift from in-store grocery shopping to online delivery will continue after the Covid-19 pandemic has ended. Its survey found that 39% of those who changed their buying behaviour dying the pandemic expect to continue shopping online.
One of the newest tech shares, online gaming platform Roblox went public on the New York Stock Exchange (NYSE) in March and gained as much as 18% in mid-April. It pulled back in the second half of the month for a 7.2% gain since the initial public offering (IPO).
Investors are attracted to the stock by its potential for growth. Roblox's daily active user base climbed by 85% from 17.6 million in 2019 to 32.6 million in 2020 - the majority of users in Generation Z. The company is looking to expand its demographic to older users. Roblox provides a platform for developers and creators to build 3D experiences and games, tapping into social gaming trends.
Analysts have initiated coverage of the stock with buy ratings and price targets between $78-$85 per share, according to MarketBeat data, indicating an upside from April's end price of $74.55.
Roku, which makes hardware and software for video streaming, was an investor favourite in 2020. The share price soared 138%, driven by the popularity of online entertainment during the pandemic.
| | |
| --- | --- |
| Long position overnight fee | 0.0240% |
| Short position overnight fee | -0.0439% |
| Overnight fee time | 21:00 (UTC) |
| Spread | 0.03 |
| | |
| --- | --- |
| Long position overnight fee | -0.0155% |
| Short position overnight fee | 0.0055% |
| Overnight fee time | 21:00 (UTC) |
| Spread | 0.18 |
| | |
| --- | --- |
| Long position overnight fee | -0.0500% |
| Short position overnight fee | 0.0140% |
| Overnight fee time | 21:00 (UTC) |
| Spread | 0.00600 |
| | |
| --- | --- |
| Long position overnight fee | -0.0141% |
| Short position overnight fee | 0.0041% |
| Overnight fee time | 21:00 (UTC) |
| Spread | 1.6 |
Deutsche Bank recommends investors buy the dip from the February all-time high. Wedbush Securities argues that the pullback presents an attractive entry point, upgrading the stock from neutral to outperform. Wedbush expects continued growth in Roku's financials, although the company could see a "moderate deceleration in 2H given tough comparisons" to the sharp growth in subscribers last year because of the pandemic.
Wedbush analysts expect advertising to continue to move in Roku's direction, and the company is only at the beginning of its international expansion.
Analysts at Needham prefer Roku over Netflix (NFLX), as it has no multiple compression risk to its valuation in the near term.
Online payment systems provider PayPal is well-positioned to profit from the growth of e-commerce, mobile payment apps, buy-now-pay-later services and cryptocurrency trading.
The stock reached an all-time high above $300 per share in February, before pulling back to $262.29 at the end of April. It is set for continued growth in line with long-term trends. Recent analyst price targets forecast the price reaching between $310 and $350 a share, according to MarketBeat.
Analysts at Piper Sandler see PayPal and Square (SQ) as "potential financial Super Apps". Piper Sandler's survey of teenage users found that PayPal has strong usage.
"The strength of PayPal's apps surprised us. PYPL's Venmo ranked #1 with teens who have used a payment app in the last month. Venmo's 47% penetration rate was complemented by the 34% for PayPal Mobile Cash. For buy now pay later, PYPL was the leading offering with teens with 33% penetration."
Shares in Microsoft sold off from their all-time high of $263 on 27 April to $252.18 on 30 April after the company reported first-quarter earnings that beat analysts' expectations. At least 13 analysts reiterated their buy ratings or boosted their price targets to a range of $270-$340 a share, from $245-$300 previously.
Analysts at Goldman Sachs raised their price target from $315 a share to $340 a share and reiterated their buy rating, citing the company's 19% increase in revenues, its fastest in 10 years, growing earnings and strong growth in commercial bookings.
"Longer term, we see the commercial cloud potentially doubling to $120-140b as MSFT continues to gain share of the cloud ecosystem, which is just around 25 basis points of global GDP and poised higher due to digital transformation."
Microsoft has developed its Azure cloud offering into the biggest rival to Amazon Web Services. This offers investors an opportunity to take a position on the growing proliferation of cloud infrastructure and the rising trend in remote working.
Online sports betting company DraftKings climbed by 65.8% from the start of the year to reach an all-time intraday high of $74.38 in March. It has since pulled back by 20%, potentially offering an opportunity to buy. The US state of New York introduced legislation to legalise mobile gambling, but with a tax rate of 50%.
Analysts at Goldman Sachs reiterated their buy rating on DraftKings in a recent note to clients: "We are buyers of the pullback in online sports betting/iGaming following recent underperformance as we continue to see a combination of one of the best long-term growth stories across consumer coupled with accelerating trends in the next few quarters."
Needham's analysts said in an update: "We are bullish on the industry with an attractive risk reward for the potential [total addressable market] TAM, with a higher probability of the bull case playing out relative to the bear case… Proposed legislation in other states suggests that New York's 50%+ tax rate is an anomaly."
Read more: BT share price forecast: will the upside potential realise?