Best stock investments of 2021: Top five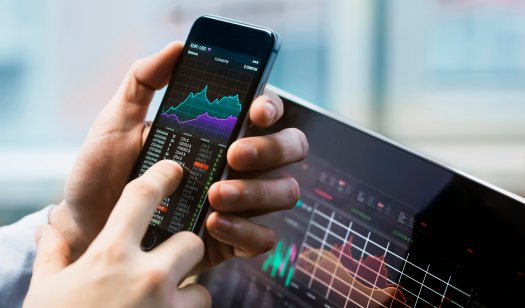 They are among the biggest winners of a turbulent 2021. The companies that have delivered bumper returns for investors amid Covid-19 restrictions and widespread global uncertainty.
Here we take a look at the best performing stocks of 2021 on the S&P 500 and analyse what's made them such standout performers year-to-date.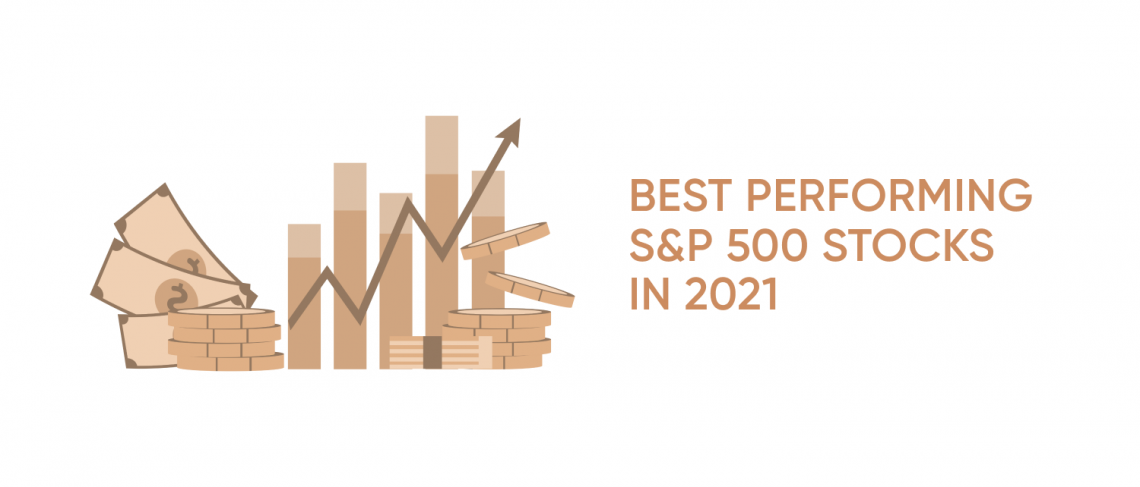 Moderna Inc
Current price: $276.38
Return year to 21 December: 164%
Moderna (MRNA) leads the way among the highest-gaining stocks in 2021. The US pharmaceutical and biotechnology company has become an instantly recognisable name among investors due to its work on Covid-19 vaccines.
Chief executive Stéphane Bancel said the company was "humbled to have helped" hundreds of millions of people around the world in the fight against coronavirus.
"We will not rest until our vaccine is available to anyone who needs it, and we are working hard to ensure our vaccine is available in low-income countries with approximately 10% of our 2021 volume and significantly more of our 2022 volume going to low-income countries," he said.
As far as its financial results are concerned, Moderna reported third quarter revenue of $5bn, net income of $3.3bn and diluted earnings per share of $7.70.
In a statement, the company said it was focused on advancing other programs in its pipeline and had recently dosed the first participants in phase three study of its CMV vaccine.
"CMV is a latent virus that remains in the body for life after infection and can lead to lifelong medical conditions," it stated. "We are also focused on addressing respiratory viruses in addition to COVID-19, including seasonal flu and RSV."
The consensus rating on the stock is 'hold', based on the recommendations of 16 analysts compiled by Market Beat. Their average 12-month price target is $238.60.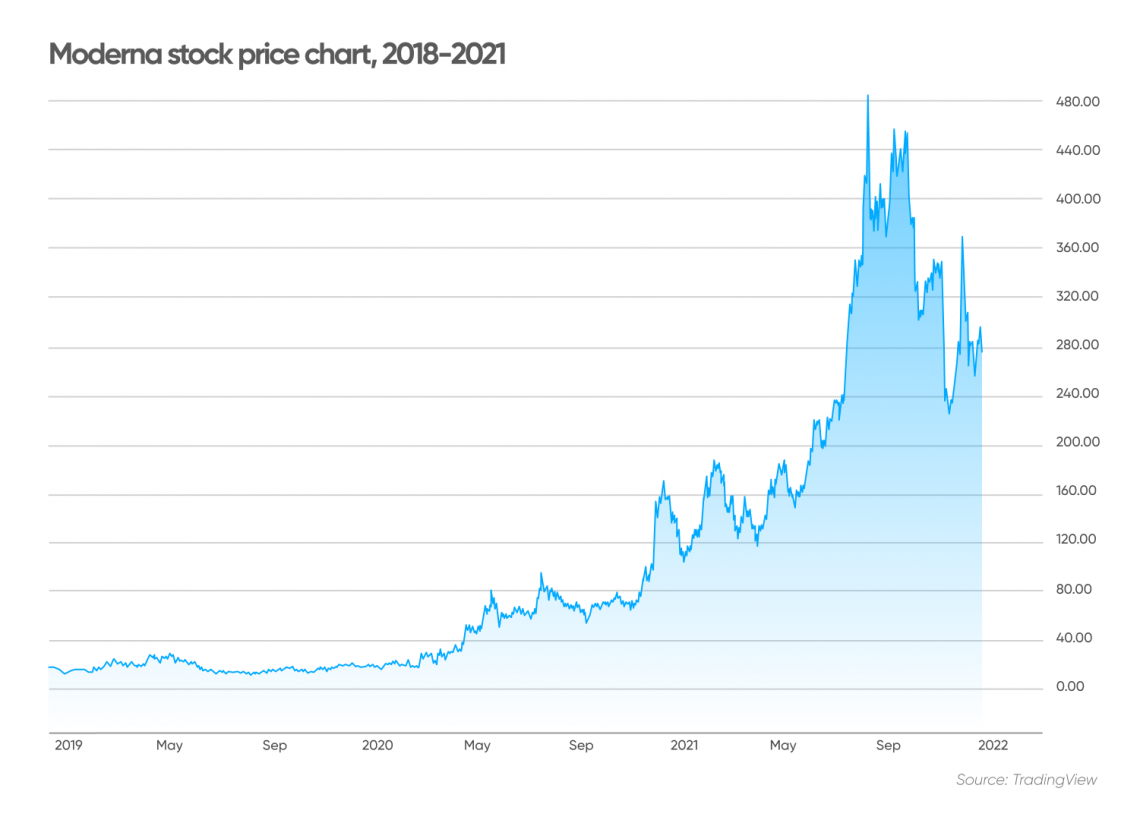 Devon Energy Corp
Current price: $37.46
Return year to 21 December: 142%
The next stock that proved its high growth potential in 2021 is Devon Energy Corp (DVN), an independent oil and natural gas exploration and production company focused on delivering a "consistently competitive" shareholder return among its peer group.
The Fortune 500 company, which was founded back in 1971, has a portfolio of operations that are focused onshore in the United States.
In early November, Devon reported net earnings of $838m, or $1.24 per diluted share, for the third quarter of 2021.
Adjusting for items that analysts typically exclude from estimates, the company's core earnings were $733m, or $1.08 per diluted share.
Rick Muncrief, Devon's president and CEO attributed the performance to its "disciplined cash-return strategy" and the power of its asset portfolio.
"The team's outstanding execution, coupled with an improved cost structure, has allowed us to fully capture the benefits of rising commodity prices and deliver robust growth in free cash flow," he said.
He pointed out the free cash flow meant it was delivering on its commitment to accelerate the return of cash to shareholders with a 71% increase in the dividend.
"With our operations successfully scaled to generate strong cash flow growth, we have no intention of pursuing production growth until it is clear that market fundamentals have sustainably recovered, and worldwide spare oil capacity is effectively absorbed," Muncrief added.
The consensus rating on the stock is "buy', based on the recommendations of 20 analysts compiled by Market Beat. Their average 12-month price target is $42.79.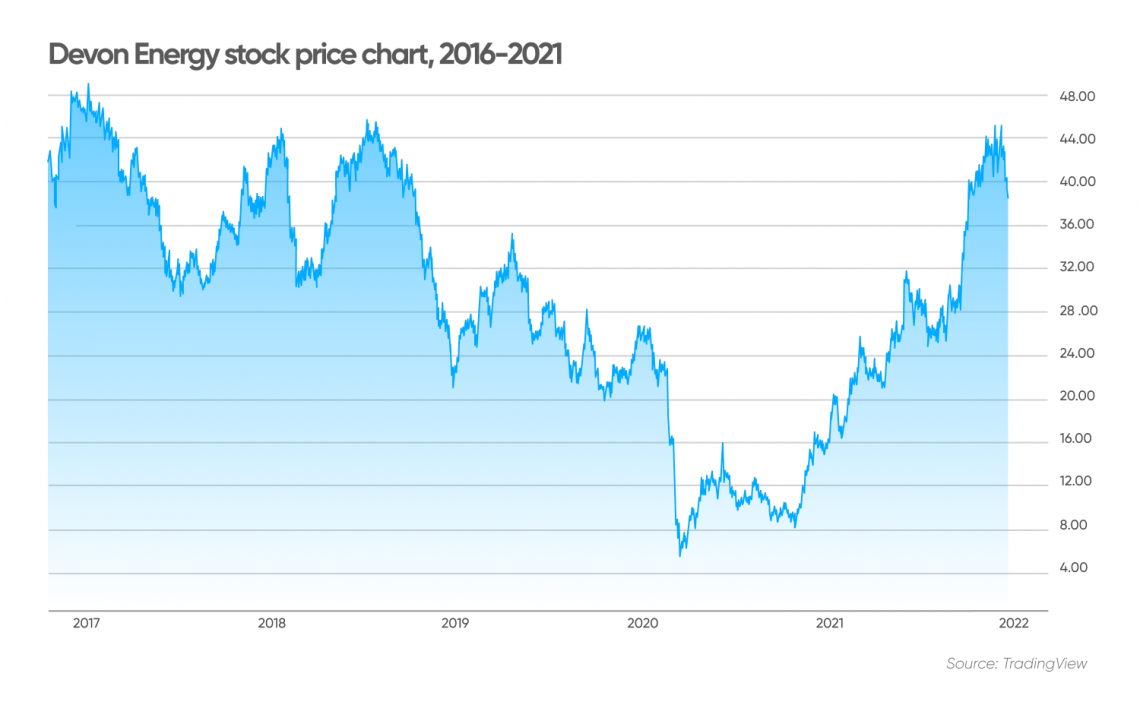 Bath & Body Works Inc
Current price: $67.38
Return year to 21 December: 126%
Bath & Body Works (BBWI) sells personal care and beauty products in more than 1,700 North American stores, as well as in 300 outlets across the world operating under franchise, licensing and wholesale deals.
It also makes its range available online via its website and is focused on delivering "exceptional fragrances" and experiences.
The company reported net sales of $1.681bn for the third quarter ending 30 October 2021, compared to $1.702bn for the same period in 2020.
However, sales for the third quarter of 2021 increased 53% compared to Q3 $1.099bn in 2019.
The spin-off of the company's former Victoria's Secret business into a new, independent, publicly traded company, Victoria's Secret & Co., was completed in early August 2021.
Andrew Meslow, the company's CEO, the first quarter as a standalone business continued its positive momentum.
"This performance was driven by ongoing strong customer response to our merchandise assortment, a growing, loyal customer base and the exceptional efforts of our associates," he said.
The company is forecasting fourth quarter earnings per share between $2.10 and $2.25, compared to earnings per share from continuing operations of $1.96 in 2020 and $1.41 in 2019.
The consensus rating on the stock is 'buy', based on the recommendations of 15 analysts compiled by Market Beat. Their average 12-month price target is $88.40.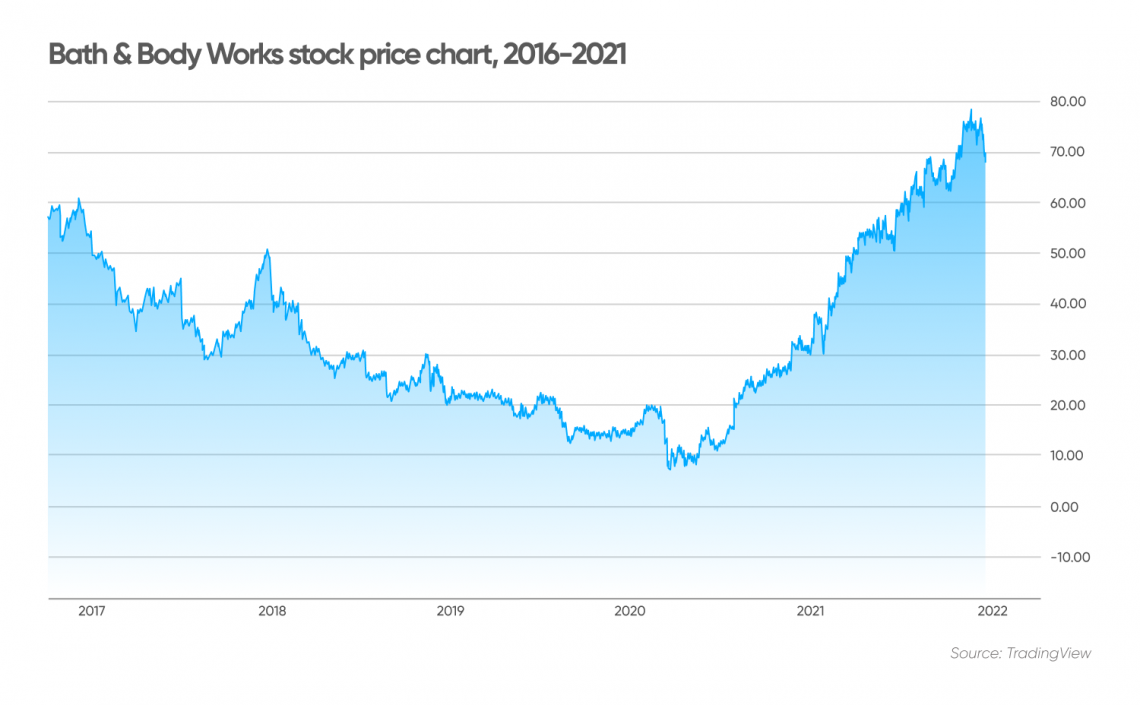 Marathon Oil Corp
Current price: $14.74
Return year to 21 December: 126%
Marathon Oil (MRO) was one of the best stocks to invest in at the beginning of 2021, with a year-to-date return of 126%. The Houson-based independent exploration and production company has roots going back to the 1800s.
In its third quarter results to the end of September 2021, it reported total revenue and other income of $1.45bn – almost double the $754m achieved in the same period last year.
Marathon also reported a net income of $184m, compared to $16m in the previous quarter, and a $317m loss in the three months to 30 September 2020.
Lee Tillman, its CEO, said the company had raised its quarterly base dividend for the third consecutive quarter to $0.a share.
"Looking ahead to 2022, with our commitment to capital discipline firmly in place, no material debt maturities, and our upsized share repurchase authorization, we are well positioned to continue delivering outsized free cash flow generation and return of capital to our shareholders," he said.
During the fourth quarter, Marathon expects total oil production to increase between 176,000 and 180,000 net barrels of oil per day (bopd) in comparison to third quarter production of 168,000 net bopd.
"Marathon Oil's 2021 capital expenditure guidance of $1bn remains unchanged, as do the midpoints of full year 2021 total Company oil and oil-equivalent production guidance," added the statement.
The consensus rating on the stock is 'buy', based on the recommendations of 15 analysts compiled by MarketBeat. Their average 12-month price target is $18.60.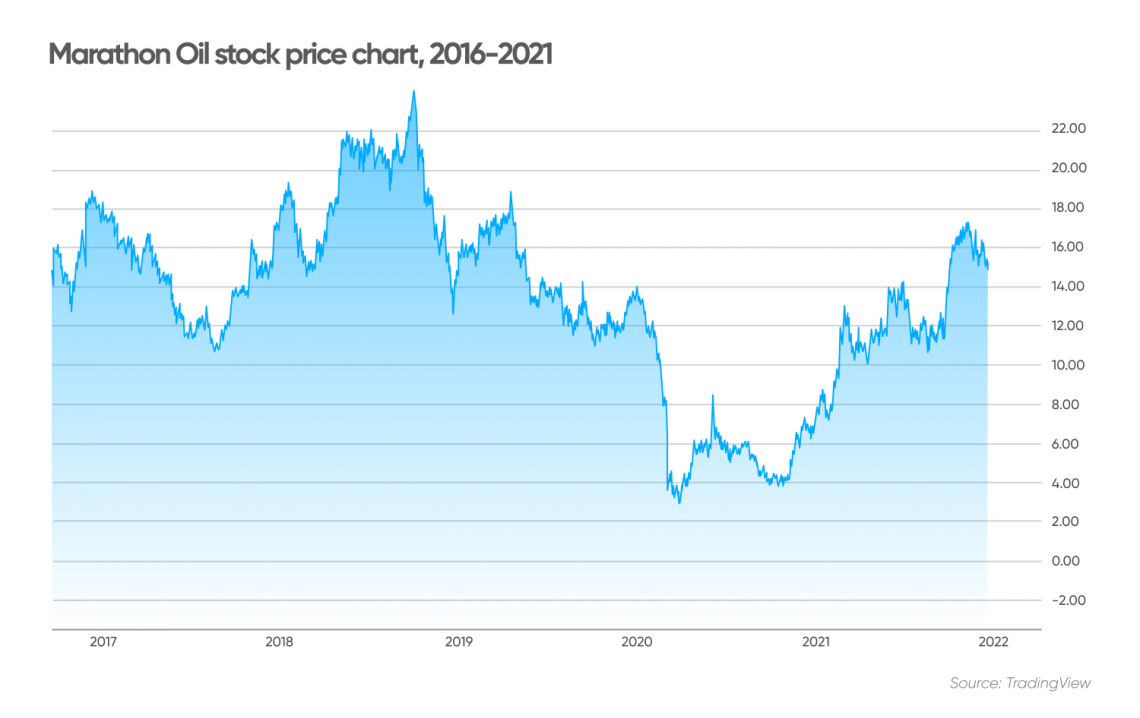 Fortinet
Current price: $330.53
Return year to 21 December: 121%
The final company among the top five stock investments of 2021 is US cybersecurity firm Fortinet (FTNT), which develops and sells firewalls and antivirus software.
The California-based business founded in 2000 is the world's largest IT security business.
Its product range includes Fortigate, the flagship enterprise firewall platform, which comes in a wide range of sizes to fit any environment.
Fortinet revealed total revenue of $867.2m for Q3 2021 – up 33% year-over-year, with product revenue up 51% to $337.1m.
It also reported net income of $163.1m for the period, compared to $123.4m for the same quarter of 2020. GAAP diluted net income per share was up to $0.97 from $0.75.
The company was pleased to exceed $1bn in quarterly bookings for the first time in its history, according to Ken Xie, founder, chairman and chief executive.
"The total addressable market for network security is rapidly expanding from the data centre outward to the local and wide-area networks, to the work-from-anywhere environment and to the cloud," he said.
The consensus rating on the stock is 'hold', based on the recommendations of 23 analysts compiled by Market Beat. Their average 12-month price target is $324.29.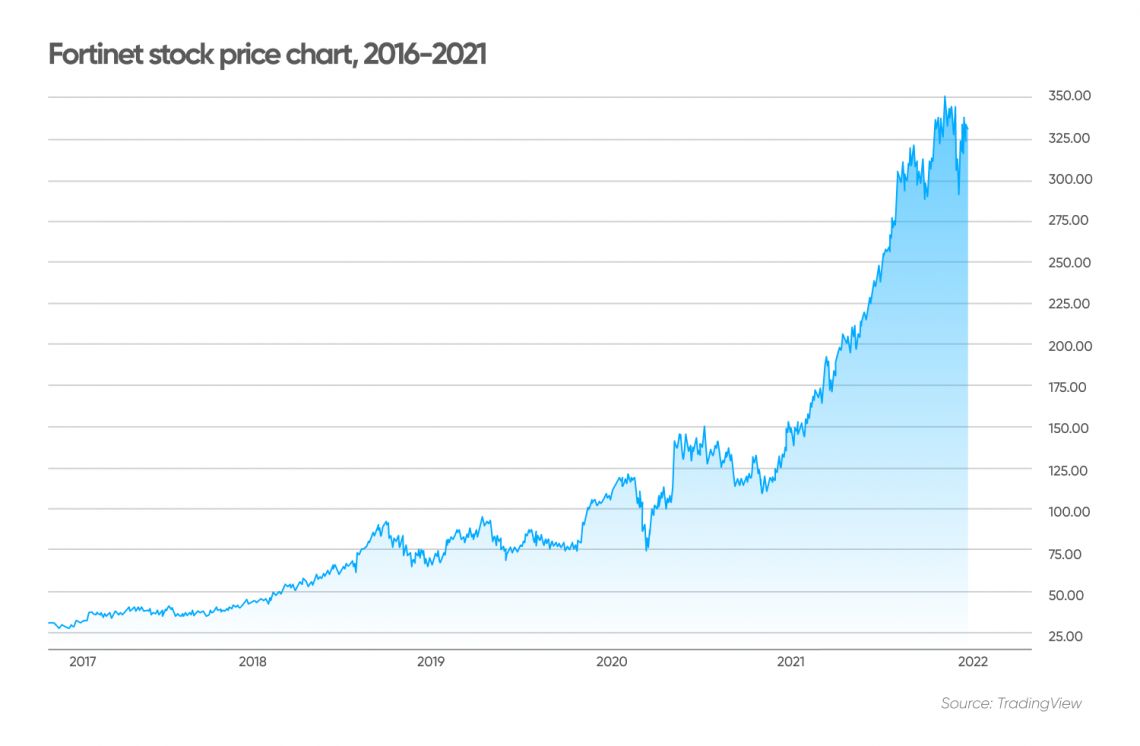 Note that analyst predictions can be wrong. You should always conduct your own research before making any investment or trading decision.
FAQs:
What are good stocks for long-term investment?

Evaluating and choosing the stocks to buy for the long-term depends on your own investment objectives and the opinion based on your own research. Remember, it's important to reach your own conclusion of the companies' prospects and likelihood of achieving analysts' targets. Past performance is no guarantee of success. and never invest money you cannot afford to lose.
Which stocks can explode in 2022?

Several factors dictate whether stock prices rise or fall, including issues within companies and broader macro-economic factors. There are no guarantees as markets are volatile, so you must make your own assessment of the stocks and the environment in which they trade.
Read more: Top Australian Stocks in 2022: zooming in on the island continent