Best DeFi coins 2021: three 'Blue Crypt' tokens to watch and trade
Subscribe to Weekly Highlights
The major market events for the week ahead right in your inbox.
Subscribe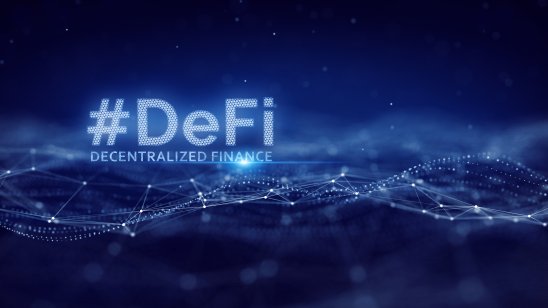 Content
The list of 'blue crypt' tokens is constantly growing, adding new names to the DeFi leaderboard. Maker, Compound, Uniswap, Aave, Chainlink and Ankr are some of the most talked-about DeFi coins to watch in 2021.
Amid the cryptocurrency rally unfolding in 2021, the decentralised finance has more than doubled in total value locked (TLV) year-to-date having reached $59.07bn as of 22 April, 2021.
According to Matt Hougan, chief investment officer at Bitwise Asset Management, "DeFi is the story of 2021" and it's hard to disagree.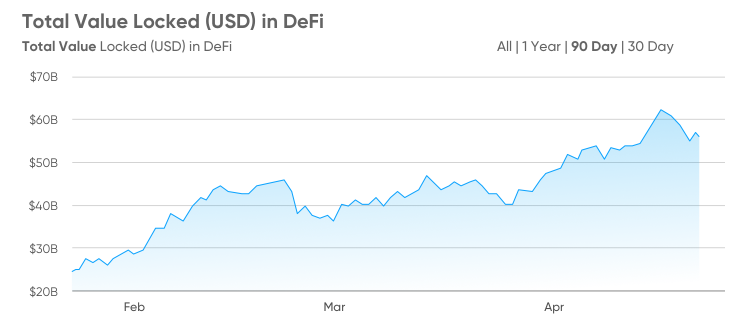 DeFi, representing digital peer-to-peer financial service technologies, aims to bypass financial intermediaries and cut out traditional banking services. It offers an alternative with faster and cheaper financial transactions with no paperwork, no minimum transaction amount, full audibility and transparency.
What are DeFi tokens? Decentralised financial applications, which run on blockchains (often on the Ethereum blockchain), which mirror traditional concepts used in the finance and banking industry.
"Decentralised finance is an unbundling of traditional finance," comments Rafael Cosman, CEO and co-founder of TrustToken. "DeFi takes the key elements of the work done by banks, exchanges and insurers today – like lending, borrowing and trading – and puts it in the hands of regular people."
Defi tokens in 2021 can provide a full range of financial services, from mortgages and loans, to asset trading and complicated contractual relationships, but without some bureaucratic procedures needed to complete transactions.
Best DeFi coins 2021: top three tokens to watch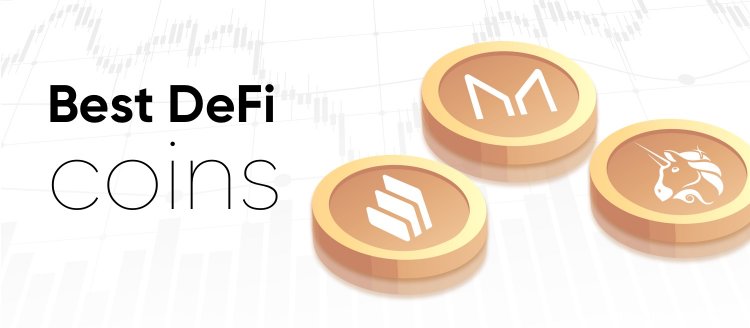 The crypto market, including the most popular DeFi coins, is turbulent and prone to wild spikes, such as those we've been witnessing with the price of Bitcoin and Dogecoin lately. Looking closer at the decentralised finance sector, we will try to define the top 3 DeFi coins to analyse and consider for potential trades.
What is your sentiment on ETH/USD?
Vote to see Traders sentiment!
Maker: passing $4K for the first time
Maker, the governance token of the MakerDao, entered the crypto market in 2017 as the first blockchain-based protocol, which launched a major automated cryptocurrency-lending platform and contributed to the boom of DeFi.
Maker is one of the earliest DeFi projects, which operates DAI, a community-managed decentralised cryptocurrency with a stable value pegged to the US dollar.
Maker holders have been rewarded by the unprecedented Maker's performance lately as the MKR token surged from $597.37 on 1 January, 2021 up to its record levels of $4,943.66 on 22 April, which represents a 727% increase year-to-date.
The price of Maker passed the $4K for the first time this April, driven by the news about MakerDao bringing real estate to DeFi, ie the Maker protocol minted $38,000 of DAI stablecoins to finance a mortgage loan.
Will the Maker's upward trend continue in 2021 and beyond? Different analysts' views contribute to the view that MKR could be one of the best DeFi coins to invest in 2021:
Wallet Investor is bullish in its Maker price prediction. It believes MKR could hit $5,359.62 within the next 12 months and climb up to $13,015.80 in a five-year period.

TradingBeasts is more conservative, predicting Maker's price to trade at $3,922.29 in December 2021 and move up to $5,767.43 by the end of 2023.

DigitalCoin estimates Maker could hit $6,608.10 by the end of 2021, gradually increase to $7,554.49 in 2022, climb up to $13,458.73 in 2025 and reach $20,927.11 by the end of 2028.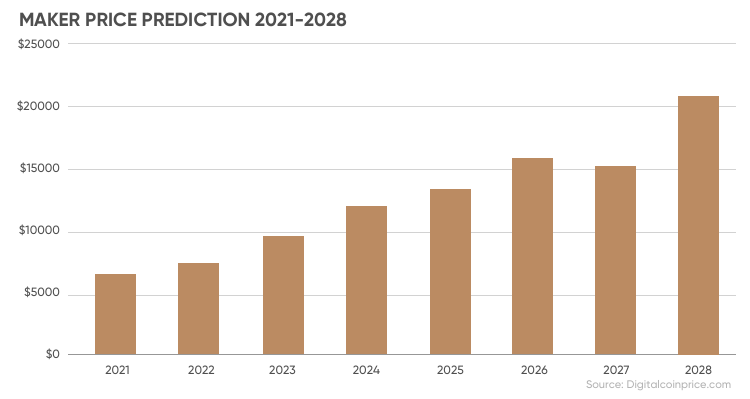 Compound: taking DeFi market by storm
Compound serves as a lending and borrowing decentralised blockchain, which enables users to earn interest on their cryptocurrencies by depositing them into one of different Compound pools.
Depositing tokens to the pool, you get cTokens. They represent your stake in the Compound pool. You can redeem the underlying cryptocurrency, which was initially deposited into this pool at any time. For instance, if you deposit ETH, you will get ETH in return. The good thing is that the exchange rate of cTokens increases over time, which means you will get interest on your initial investment.
After three years of running on the Ethereum network, Compound launched its own native token COMP in June 2020. COMP holders have voting rights with one COMP representing one vote. Anyone with 1% of the total COMP supply can submit their proposals and vote for other proposals regarding the Compound protocol change.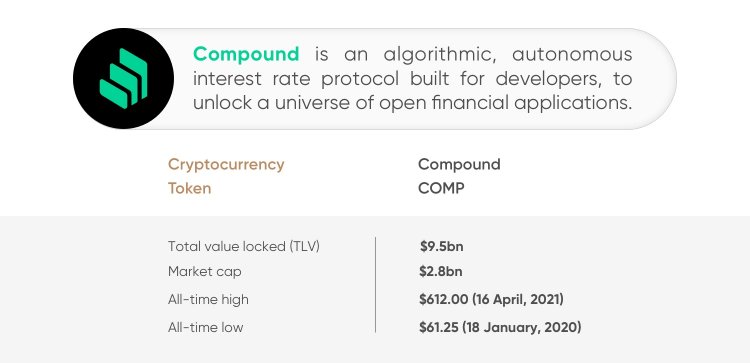 Since the start of Compound mainnet in 2018, the platform gained popularity and has recently passed $9bn in total value locked, which bodes well for including it in our list of top DeFi crypto coins to watch.
COMP has started the year trading at $143.90 on 1 January, 2021 and climbed up to $561.22 by April 22, 2021, which represents an increase of 290% year-to-date.
To analyse Compound's future prospects, let's take a look at some of the latest COMP coin price predictions:
Wallet Investor considers Compound an "awesome" long-term investment. It gives it a $918.58 price target within the next 12 months and believes it could hit $2,617.52 in a five-year period.

Longforecast shares a more conservative but still bullish view on the COMP price prediction, believing COMP could reach $628 by the end of the year, move up to $732 in 2023 and hit $839 by the end of 2024.

DigitalCoin estimates Compound could reach $875.21 by the end of 2021, increase to $1,016.74 in 2022, move up to $1,770.79 in 2025 and hit $2,639.50 in 2028.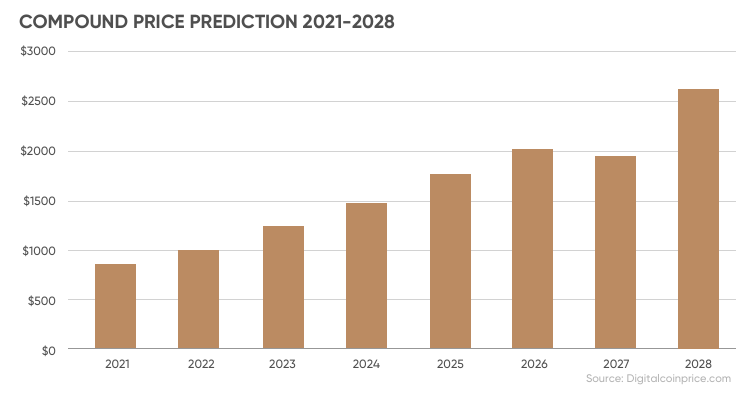 Uniswap: UNI token rallies 700% YTD
Uniswap facilitates automated trading of decentralised tokens. Serving as an automated market maker (AMM), Uniswap gained traction in 2020 solving the liquidity problem faced by other Decentralised exchanges (DEXs).
Although Ethereum is still the most famous DeFi protocol, almost 50% of the DeFi market is capitalised by Uniswap. The platform enables users to trade ERC20-based tokens and make fee income by being a market maker that provides liquidity to enable token swapping. In other words, Uniswap allows users to make transactions with no intermediaries reducing the cost of the process.
Some features, such as low fees, user-friendly operations, full control over your private keys, external wallet integration and high liquidity, contributed to Uniswap's triumph in record time.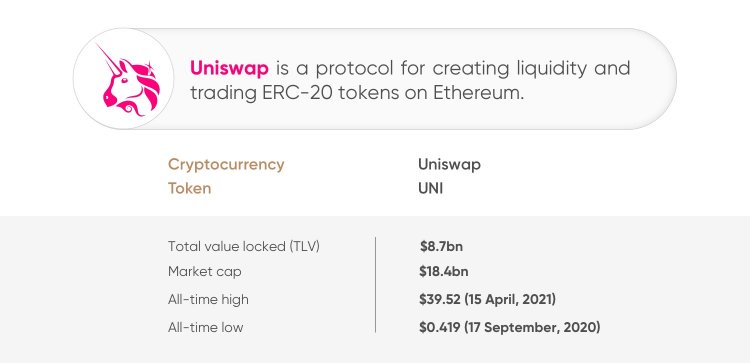 Uniswap launched its native governance token UNI in September 2020 with a trading price of $2.94. It started a new year trading at $4.92 on 1 January, 2021 and skyrocketed to its all-time high of $39.52 on 15 April, 2021, an impressive surge of 703% within four months.
Unanimously referred to as one of the most promising DeFi coins, Uniswap enjoys a bullish market sentiment, supported by numerous analytical resources.
Wallet Investor views Uniswap as an "awesome" long-term investment. It estimates UNI could hit $101.42 within 12 months and climb up to $380.13 in five years.

According to Longforecast, UNI could end the year trading at $45.39 and soar up to $51.65 in 2023.

DigitalCoin believes Uniswap could go up to $49.89 by the end of the year, move up to $68.60 in 2023, $98.70 in 2025 and eventually $151.75 in 2028.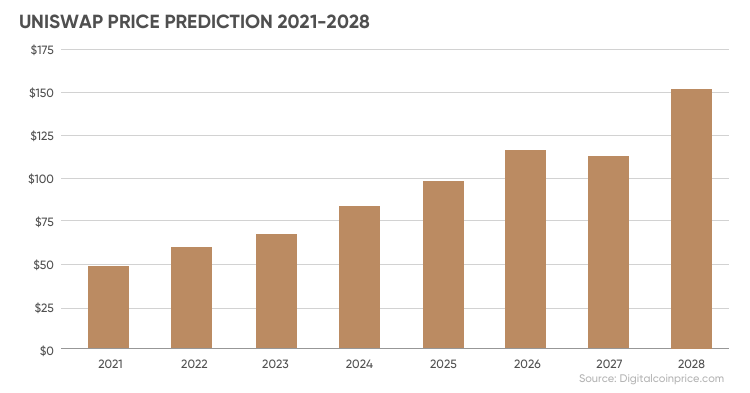 Why are DeFi projects so popular? Several reasons to consider
Independence. A key feature of decentralised finance is its independence from governments and regulators. Powered by decentralised apps (dApps), DeFi makes its way into a wide range of simple and complex financial transactions.

Interest of institutional investors. Today we see large banks, investment funds and global businesses entering the market. For example, Spartan Group, a Singapore-based investment company, announced the launch of a $50m venture fund to support DeFi projects.

Development potential. From taking out the middleman to turning basketball clips into digital coins with monetary value, DeFi prospects could be far-reaching.

Pandemic. Covid-19 contributed to the popularity of the DeFi market, as people started seeing decentralised finance as a harbour for keeping their funds and increasing them.
Bottom line: what Defi tokens to buy
People still looking for the best DeFi tokens to invest in, will not get a definite answer, and for good reason. The DeFi space is experiencing an accelerating growth. New projects with huge investment potential enter the market on a monthly basis, providing new trading opportunities.
All you can do is to conduct your own thorough analysis, spot the DeFi tokens you like and trade them with a trustworthy platform.
Read more: SafeMoon price prediction: should you choose it over DOGE?