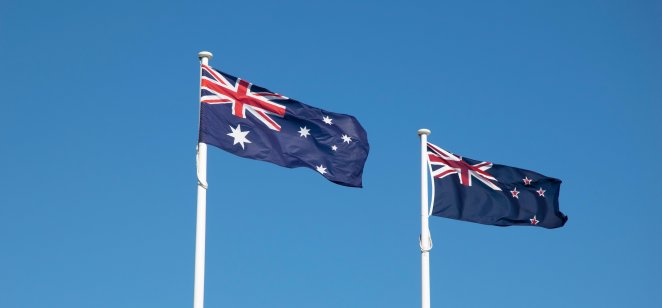 Global stock markets have taken a battering this year, boosting 'havens' like gold and the US dollar (DXY) – but early signs of a turnaround are beginning to be felt in the FX market.
After dipping into bear market territory, the S&P 500 (US 500) has rallied this week, while Asian equities and many European markets have also climbed. Though tentatively, analysts have begun to speak of an improvement in broader risk sentiment in financial markets.
The dollar, meanwhile, which had been on a bull run since March, has weakened for its second consecutive week.
What factors are at play, and which currencies may feel the benefits?
Dollar index (DXY)
Risk rebound
"After five terrible months for global stock markets and, by reflection, investors' willingness to take risks, the dollar's rally has slowed in recent days, and risk-sensitive currencies rebounded hand-in-hand with stocks," said Piero Cingari, analyst at Capital.com
"When investor risk appetite recovers, high-beta currencies like the Australian dollar (AUD) or New Zealand dollar (NZD), as well as commodity-linked currencies like the Canadian dollar (CAD) and Norwegian krone (NOK), tend to outperform safe haven currencies like the US dollar (USD) or Japanese yen (JPY)."
AUD rose to three-week highs on Friday following the release of strong retail sales data.
Correlation of AUD and NZD currencies with S&P 500 over two months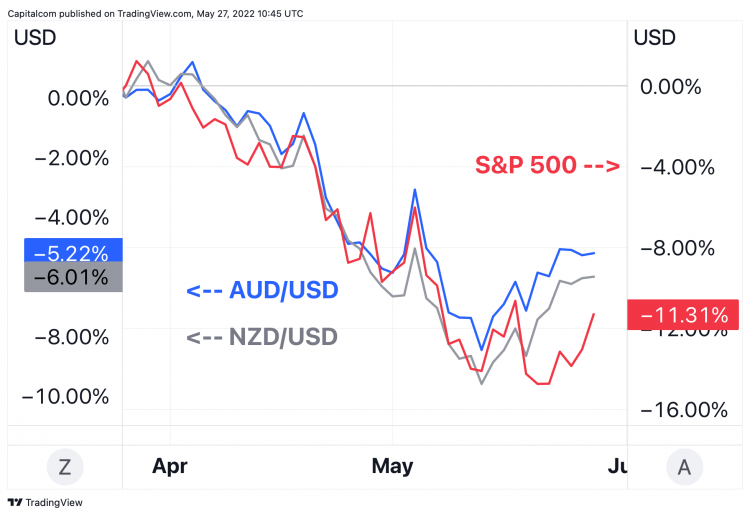 AUD/NZD/US500 – Chart: TradingView
Working against the dollar, Cingari explained, are "fundamental forces" including the Federal Reserve's rate hikes for this year being largely priced in by the market; indications that inflation has peaked; and central banks around the world, including the European Central Bank (ECB), joining the rate hiking club.
With the Fed now widely expected to raise rates by 50 basis points in its next two meetings, investors are more willing to forego the dollar's "insurance" in favour of higher returns elsewhere, Cingari said.
"Aside from the correlation with risk sentiment in equities markets, currencies like the Australian and New Zealand dollars now have central banks eager to hike interest rates more aggressively than the market had anticipated," Cingari added.
"As other central banks join the chorus of interest rate rises, the Federal Reserve loses its monopoly on being the most hawkish.
"Therefore, the difference in yields between US Treasuries and government bonds from other countries starts to get narrower, eroding the dollar's relative edge."
Looking ahead
Yohay Elam, analyst at FXStreet, told Capital.com: "It seems that some market participants think markets have bottomed out – or that others think so, and fear missing out on rallies.
What is your sentiment on AUD/USD?
Vote to see Traders sentiment!
"I would feel comfortable saying the dollar has peaked once employment growth and inflation figures materially slow down. Next week's Nonfarm Payrolls and the following week's CPI figures are critical. I believe the dollar has one more rally left before a steady downtrend begins."
He added that the potential for the euro to reach 'dollar parity' now seemed more distant following eurozone PMI figures showing the bloc's economic growth holding up despite inflation and supply issues.
"Businesses in Europe have shown an ability to adapt to risks, including the Russia-Ukraine war, and that puts the euro on a better footing – enough to dismiss parity with the dollar in the near future," Elam said.
This week also saw ECB president, Christine Lagarde, state the eurozone would most likely be out of negative interest rates by the end of the third quarter.
Dollar floor?
Analysts at bank ING today said they expected a now less-overbought dollar to recover from its current levels rather than extending its drop.
"While the risk sentiment channel has, by and large, remained the primary driver of FX moves, the market's tentative speculation about a pause in the Fed's tightening cycle in September is surely contributing to keeping the dollar soft," they said in a note.
"In our view, however, it's hard to see a much calmer risk environment amid global monetary tightening and multiple downside risks (China, Russia/Ukraine), and a further shrinking of the USD's short-term rate advantage over other G10 currencies, given that the FOMC rhetoric is still very hawkish.
"We see a higher chance of recovery in US rate expectations, which should put a floor under the greenback. When adding a more balanced positioning picture following the latest moves, we think that the dollar's downside risk is now looking less pronounced, and we favour instead a recovery to the 103.00 level in DXY."
Read more