Barratt profits to fall as housebuilders slow new developments in face of market slump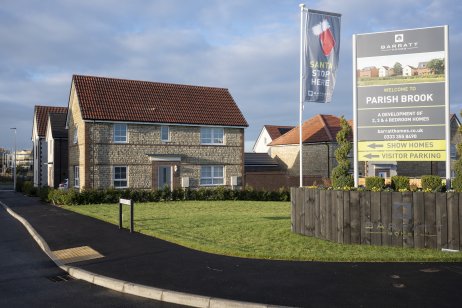 Barratt (BDEV) is the first of the major UK housebuilders to issue a trading update next week on Wednesday.
Barratt's shares have almost halved this year - input costs, higher interest rates, the end of Help to Buy, lower mortgage availability in the autumn (thanks to Trussonomics) and sagging consumer sentiment are all contributory factors.
Just what are analysts looking for in the latest figures?
As Russ Mould, investment director at AJ Bell points out, Barratt's October trading update was a cautious one, particularly as it flagged a marked drop in the number of net reservations per outlet per week to just 0.55 between 1 July and 9 October 2022, down from 0.85 in the equivalent period in 2021.
That was the lowest figure since 2012, the year before the introduction of Help to Buy by then-Chancellor of the Exchequer George Osborne.
Barratt share price chart
The net private reservations rate is therefore the first number which analysts will study, Mould says, along with the number of active outlets – Barratt had planned to grow sales outlets by 3% in the year to June 2023 from last year, which averaged 332 outlets and ended with 352.
Attention will then switch to completions and pricing. "Barratt has previously stated it expects 45% of its completions to fall in the first half to December and 55% in the second to June, as per seasonal norms.
"First-quarter completions were 3,608, as budgeted and down 2.5% year-on-year, but for the year as a whole the FTSE 100 firm has targeted volume growth of 3-5% to around 18,600 completions".
Should Barratt make any comment on pricing (watch out for whether part-exchange is becoming a more active tool once more), last year's average selling price for 2022 overall was £340,800.
When you factor in management's estimates of 9-10% cost input inflation this year, Mould says analysts are looking for adjusted pre-tax income of £973m for the whole year, marginally down from £1.1bn in fiscal 2022, before a deeper drop in the year to 2024.
"Management noted it was comfortable with the consensus estimate at the first-quarter stage, although analysts and investors will also look out for any further comment on cladding remediation costs and the troubled Croydon Cityscape project, which could yet impact the stated pre-tax figure (Barratt will strip these out on an adjusted basis). Barratt has so far set aside £580m here," Mould explains.
Forward sales will be a further means of gauging the trajectory of future revenues and profits. As of 9 October, forward sales stood at £3.6bn, down from £3.8bn at the end of June.
What is your sentiment on BDEV?
Vote to see Traders sentiment!
Land purchase slowdown
Analysts will also look to chief executive officer David Thomas for any further thoughts on capital allocation policies.
Thomas flagged a slowdown in land purchases, due in part to high prices and uncertain end markets, although the firm has continued to run a £200m share buyback scheme.
Mould thinks it unlikely Barratt will comment on the first-half dividend until the actual interim results (in early February), but consensus forecasts are looking for a small cut from 36.9p a share to 35p for the year as a whole. The first-half dividend a year ago was 11.2p a share.
Barratt's numbers may well set the tone for other housebuilders providing a trading update later the same week – notably Persimmon (PSN.L) followed by Taylor Wimpey (TW.)
In term of a general view on the UK housing markets and prospects for 2023, Halifax's December House Price Index reveals a further fall in house prices but some commentators are seeing at least small signs of encouragement.
Jonathan Hopper, CEO of Garrington Property Finders, explains that as the paralysis of October and November past, the market slipped deeper into correction territory as the year ended.
But he argues that this remains a correction rather than a crash, for the simple reason that supply and demand are both waning together.
"Crashes happen when distressed sellers push up the number of homes for sale, prompting prices to plunge amid a glut of supply.
"Neither of those things is happening at present. Prices are sliding but so is supply, and this delicate balance is limiting the falls in price. Average prices fell by 1.5% in December, compared to 2.4% in November.
Hopper points out that few homes are being listed and few are selling, with the chief casualty so far being the number of transactions rather than prices.
"Life goes on for some buyers, especially those with a good chunk of equity under their belts, with the most tactical starting to search for bargains".
He adds: "While the market still faces headwinds and fragile levels of confidence, there are some early New Year signs of cautious optimism – and we may yet see a spring thaw, if not a bounce."