BABA share price revives as Chinese tech companies get a boost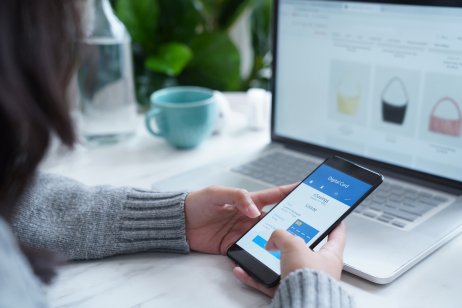 Alibaba Group (BABA) shares have gained almost 20% in the past month, surpassing not only Chinese e-commerce stocks but also big global names. Much of this momentum can be credited to the potential loosening of Chinese government policy on the tech sector – however, it's the group's expansion strategy which may help it sustain this rally.
During the current climate of global stock market decline, the e-commerce giant's shares have surpassed both S&P 500 (US500) and the Hong Kong 50 (HK50).
Much of the rally occurred recently as there were signals from the Chinese government that they might be loosening some of the sweeping regulations brought in during 2021 to address tech monopolies in the region.
Alibaba (BABA), S&P 500 (US500) and Hong Kong 50 (HK50) – 6-month performance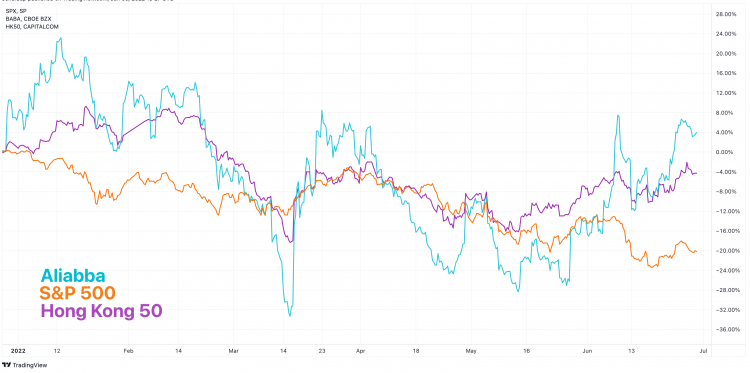 Six month performance chart - Credit: TradingView
Although this news has given many Chinese firms a boost, Alibaba's (BABA) performance remains superior when compared with other big global names such as Shopify (SHOP), Amazon (AMZN), JD.com (JD), Etsy (ETSY) and eBay (EBAY)
Alibaba dominates Chinese markets, with 80% control of the region while also making moves to gain global market share. It has also gained investor confidence in its earning potential by raising its share repurchase program from $15 bn to $25 bn during the first quarter of 2022. Analysts have high earning expectations for the company in the coming year.
What is your sentiment on BABA?
Vote to see Traders sentiment!
E-Commerce companies' six month performance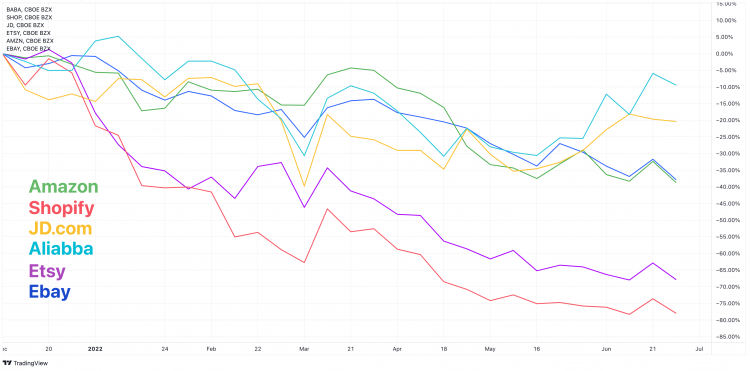 Six month performance chart - Credit: TradingView
The King of Chinese market
Over the past few years, Alibaba has taken aim at gaining market dominance in the Chinese market. Following are some of the strategies it followed
Largest e-commerce market share on the Chinese market
Among some of the e-commerce companies operating in China such as JD.com (JD) and Pinduoduo (PDD), Alibaba serves the largest amount at almost 80% of the market.
All Asian markets have shown great growth potential for all e-commerce companies. In an investor note seen by capital.com, analysts at Zacks equity research believe that "China is now leading the race in terms of maximising the potential of the Internet compared with the West. The low-cost, widely available telecommunication infrastructure in China has increased the popularity of online shopping Therefore, Alibaba, which dominates the world's largest e-commerce market has an edge over its competitors."
Beyond running its main website, the company also runs Taobao and Tmall.
Taobao is Alibaba's most profitable arm, with 80% of total group revenues coming from this area. The site sells imported luxury goods to the Chinese market.
Tmall is a spin-off of Taobao, where global companies can directly sell their merchandise to Chinese customers.
Alibabahgas also launched a "new retail" strategy, which has been gaining traction in recent months. This plan aims to bring together digital payments, e-commerce, logistics, food delivery and other parts of online businesses into one space.
This has been gaining traction in recent months and analysts at Zacks believe that "These look promising and will not only reshape the retail landscape but also help Alibaba fend off competition"
Alibaba (BABA) share price
China says relax
During the second half of 2021, the Chinese government introduced a number of sweeping regulatory decisions aimed at reducing monopolies of online and tech businesses. Reuters reports the government even accused Alibaba (BABA) and Tencent (0700) for false advertising in order to gain a monopoly.
A few months on, in the backdrop of a slowing economy, the Chinese government appears to have relaxed their views on this. With reports of government officials meeting top executives to find resolution. The government allows new gaming licences to be issued, notably none for Tencent per Reuters
In an interview with CNBC, fellow company JD.com's CEO Xin Lijun said that the new government policy effects should show up in the second half of 2022, when he believes the Chinese economy will also pick up.
Alibaba outlook
As per analyst notes from Zacks, Alibaba's one year expected earnings are set to come in above the sector average and the S&P 500 average. The group's recent announcement of increasing its share repurchase program has also sent a positive signal to the market.
The group does not appear to be content relying on just one market, even though it is a source of huge profits. Alibaba also has plans to move to gain global market share, which is where its future growth potential may come from.
Analysts at Zacks believe that "The company has been looking to international markets to expand its business and its current strategy is to generate earnings through investment in the U.S. In pursuance of this strategy, Alibaba operates a low- profile website with an American name — 11Main.com — a platform for smaller sellers to hawk their wares. The e-commerce market in the U.S. are expected to grow at double-digit rates over the next few years and this is the potential that the company wishes to tap"