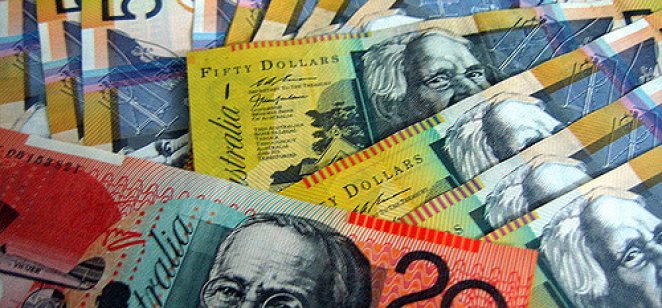 The Aussie dollar rallied on Tuesday after minutes from the last Australian central bank policy meeting and a speech from its governor indicated a tough approach to fighting inflation with a continuing rate hike schedule.
Against its US rival (AUD to USD), the Australian dollar climbed 0.5% to $0.6981, but still hovering just above a two-year low of $0.6829 hit last month. The Aussie also climbed 0.6% to JPY94.34 versus the Japanese yen (AUD/JPY).
While the main path for the Aussie in recent weeks has been lower, there may be technical signals that the currency could be due a more prolonged rally in the weeks to come.
Australian central bank governor: rate hikes to come
Much of the Aussie's strength on Tuesday came following comments from Philip Lowe, the governor of the Reserve Bank of Australia, the country's central bank, who said Australians should be prepared for further hikes in the months to come after it raised its main rate from 0.35% to 0.85% on 7 June.
"As we chart our way back to 2%-3% inflation, Australians should be prepared for more interest rate increases," Lowe said in his speech at the American Chamber of Commerce in Sydney on Tuesday.
The Aussie dollar had, during the first quarter, stood up well against the dollar rising to a cyclical high of $0.7663 in early April as commodity prices soared - in some cases to record highs.
But as several major cities in China went back into lockdown, demand expectations for many metals fell, sending prices sharply lower. Indeed, iron ore prices have surrendered their gains for the year, while aluminium has fallen from a record high close to the $4,000 per tonne mark, to $2,523 in a matter of three months.
China is Australia's biggest trading partner, accounting for more than two-fifths of total Australian exports. And iron ore accounts for nearly a third of Australia's total goods exports.
This has undermined the Aussie and it has now fallen 9% since that March cyclical high.
But Piero Cingari, analyst at Capital.com, has spotted some technical trading trends that appear to point to an imminent rally as the Australian central bank continues with its path of 0.5% rate hikes at its next two meetings.
What is your sentiment on AUD/USD?
Vote to see Traders sentiment!
'Double bottom' may indicate bullish trend reversal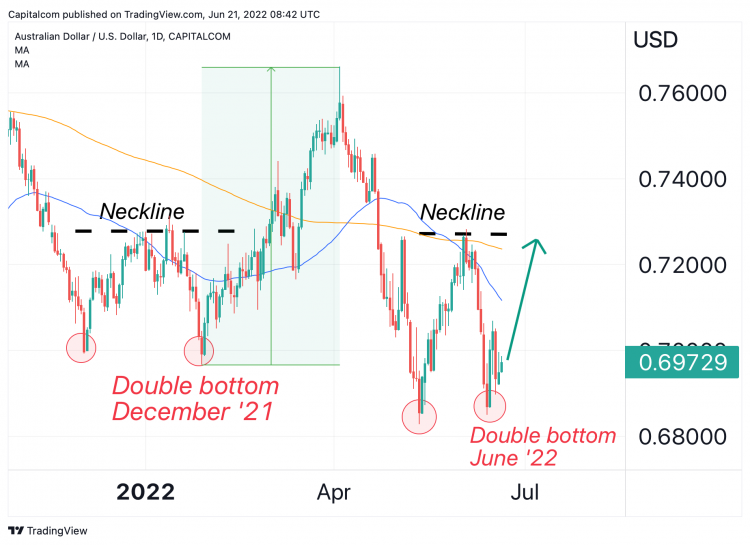 Chart showing how a double bottom forms - Source: Capital.com/Trading View
Cingari says: "The chart above shows a double bottom formed at 0.685 last week.
"A double bottom is a chart pattern that consists of two fairly equal lows with a minor peak in between, which forms what is called a 'neckline'. It usually happens at the conclusion of a falling trend and may indicate a bullish reversal signal."
So in the chart above, there's the possibility of a fresh take off for the Aussie near the 0.727 neckline. As an example, see what happened the last time a double bottom formed in December, which led to a 10% rally.
So, what next for Australia's central bank?
With headline inflation currently at an annual rate of 5.1% at the end of the first quarter the RBA's May forecasts suggested inflation would peak at 6% at the end of the year. Information available since this has forced the RBA to push its forecast higher and now expects inflation to peak at 7% in the December quarter.
But the RBA doesn't appear overly concerned about the prospects of a recession, even if it continues with 0.5% rate increases over the coming meeting. With unemployment at a near five decade low and growth still reasonably robust at an annual 3.3% in the first quarter, the RBA has some wiggle room on rates.
Ben Udy, Australia and New Zealand economist at Capital Economics, suggests the RBA with raise by another 0.5% at both its |July and August meetings.
Read more