Fed tightening means Aussie will stay weak versus the dollar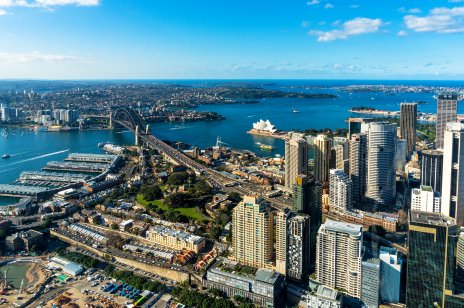 The US plans to wind down its quantitative easing (QE) programme rises versus a more dovish approach by the Australian central bank means the Aussie will extend its period of weakness versus the greenback in 2022.
Last week the US Federal Reserve (Fed) announced that it would speed up the planned reduction of QE while today the Reserve Bank of Australia (RBA) confirmed that QE will continue until "at least" February 2022.
After a largely choppy second half of 2021, the Australian dollar has lost ground sharply against the greenback since November, dropping from 75 US cents on 1 November to 71.16 US cents on 21 December.
More Aussie weakness
According to Sean Callow, senior currency strategist at Westpac, the more dovish approach of the RBA will result in more weakness for the Aussie.
"[Continued QE by the RBA] will chip away at the Aussie, given that the US Fed would have completely wrapped up its programme by March," he tells Capital.com.
While the European Central Bank wrestles with rising inflation, Rahul Khare, FX analyst at ANZ Research, says that the outlook for Australia is more positive.
What is your sentiment on AUD/USD?
Vote to see Traders sentiment!
Inflation not a concern
"At this stage, we feel Australia is unlikely to be caught up in the global rise in inflation in the first half of next year, because supply side friction is less intense and wages growth fairly contained," he says.
Westpac's Callow agrees and said that even the RBA is not convinced that the "lengthy period of slow wages and below target inflation in Australia is over".
"We do not have 5-6% inflation in Australia. Core inflation, which really should be all that matters, is barely above 2%. Wages are at a similar two and bit percent," says Callow.
Similarly, in a recent note, Dutch bank ING's global head of markets Chris Turner, said that a "sharp rise in wage growth is not guaranteed".
Economy to strengthen in 2022
Westpac's Callow and ANZ's Khare both agree that the Australian economy is expected to fare better in 2022, which is why they expect the RBA to start turning hawkish towards the later part of the year.
"Domestically, we expect the economy to have a better year in 2022 as high vaccination rates and eased mobility restrictions set the stage for a sustained rebound in activity.
"With markets balancing the risks of above-trend global growth against tightening, we think the AUD outlook is balanced, so our 2022 year-end forecast is 75 US cents," said Khare.
Predictions for AUD versus USD
Callow of Westpac predicts the AUD to slip to 70 US cents by June 2022 before rising to 73 US cents by the end of year.
Turner of ING said that softer commodity prices expected in 2022 will also keep the Aussie under check.
ING's outlook for the Aussie, though is much higher than Westpac's, forecasts the Aussie to be at 74 US cents by June 2022 and 75 US cents by the end of the year.
"AUD has benefitted from Australia's energy-exporting industry, but our commodities team expects natural gas and coal to be among the main victims of the energy price decline in 2022", Turner said.
Commodity price outlook
Westpac's Callow said that while softer commodities prices will have an impact, it will not be much unless there is a major crash in prices.
"The commodity story has been very supportive of the Aussie for a long time. Australia has been running trade surpluses for over three years now.
"I think we just broadly take it as a given that the Aussie has pretty solid support on the trade side," he said.
Read more: RBA commits to continue QE until "at least" mid-February 2022