Aurinia Pharmaceuticals (AUPH) stock forecast: M&A on the horizon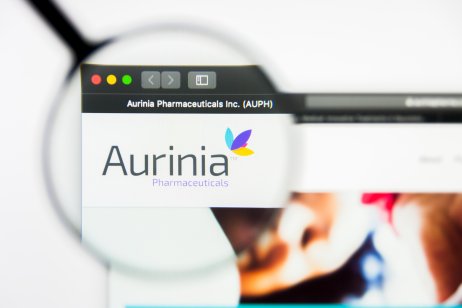 Aurinia Pharmaceuticals (AUPH) surged to new all-time highs this year, not because of the success of its first drug release, but rather because investors suspect the company based in Victoria, Canada could get bought out by a larger drugmaker.
With a market cap of around $2.6bn Aurinia is expected to be the target of several pharmaceutical companies interested in bolt-on acquisitions to bolster their drug pipeline. Yet, some investors remain interested in Aurinia's core business that could be poised for significant growth if sales of its lupus nephritis medication Lupkynis (voclosporin) that was just approved this year take off.
Aurinia Pharmaceuticals share price
In early November Aurinia shares peaked at their all-time high of $33.97 per share as the mergers and acquisitions (M&A) rumours ramped up. But since then, the share price has fallen back down again to as low as $17.33 per share for a 48% decline off those highs. In early December the shares were climbing again to trade at around $20 per share.
Still, investors haven't erased all the gains on the year. In May, the shares were trading at their 52-week lows of $9.72 per share as confidence in the lupus drug waned. And year to date the stock is still up more than 48% from where it opened the year at around $13.84 per share.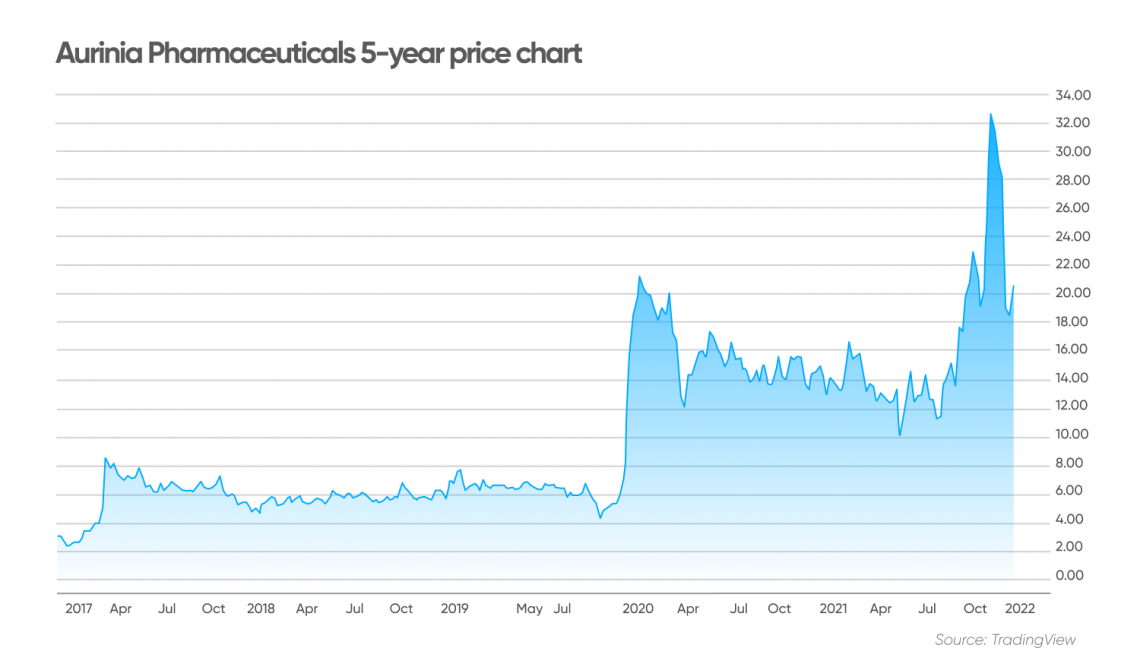 M&A rumours
Aurinia's shares first took off in October after Bloomberg reported that Bristol-Myers Squibb could be interested in buying the company. And the shares further surged when it was rumoured that GlaxoSmithKline (GSK) could be an interested buyer as well.
However, GSK later denied the reports dampening some of the enthusiasm for a buyout.
By late November, optimism for a sale to a larger pharmaceutical company hit new lows after Aurinia announced a mixed shelf offering. The offering allows Aurinia to sell shares, debt securities and/or warrants over a period when it becomes most advantageous to the company in a signal to investors that no buyout was imminent.
Yet, hope springs eternal. In early December, Aurinia's shares moved higher again after pharmaceutical company Novartis said it prefers to focus on bolt-on acquisitions rather than big merger deals during its research and development day presentation.
Novartis has the firepower to pull off a big deal after Roche bought back shares from Novartis for some $20bn. But with Novartis clarifying its strategy of pursuing smaller bolt-on acquisitions Aurinia came back into focus as a potential target.
Other companies that could be interested in the purchase of Aurinia include Amgen, AbbVie, Johnson & Johnson, and Otsuka, according to Cantor Fitzgerald analyst Alethia Young. A possible sale would be valued at around $45 to $53 per share, Young added.
Organic growth
Even if no M&A deal materialises investors still see growth potential. In the third quarter, Aurinia reported revenues of $14.7m, which was slightly above street estimates of $14.0m and more than double the prior quarter's $6.6m of revenue.
The fledgling pharmaceutical company had no reported product revenue just a year ago as it awaited US Food and Drug Administration (FDA) approvals for Lupkynis, the first and only oral therapy for adults with active lupus nephritis.
Since the drug was approved in January, Aurinia said it has secured more than 1,265 patient start forms to join the Aurinia Alliance lupus treatment program as of 3 November. Some 412 or 32% of those patient start forms came in the third quarter.
The company reiterated its guidance to generate $40m to $50m of revenue in 2021 and revenue could rise by as much as 291% in 2022 to $156.5m, according to Oppenheimer analysts Justin Kim and Hartaj Singh.
"Despite a challenging Covid-19 commercialisation environment (delta variant), we view Aurinia's in-line quarterly revenue and upward trend in patient start forms positively," the Oppenheimer analysts said in a note to Capital.com. "While merger fervour continues to drive appreciation of this opportunity, in our view, we note management's continued work and commitment to building a broader and deeper appreciation of Lupkynis' product profile and executing on the commercial franchise."
Aurinia history
The company was originally founded in 1993 in British Columbia, Canada as Isotechnika Pharma and was listed publicly on the Toronto Stock Exchange, according to the company's website. When Vifor Pharma – a Switzerland-based subsidiary of pharmacy network Galenica Group – acquired another immunotherapy company Aspreva in 2008, it spun out Aurinia as a separate entity.
In 2012 Isotechnika granted Aurinia an exclusive licence for the company's lead drug called voclosporin that today is its lead drug Lupkynis. A year later Isotechnika bought Aurinia in an all-stock transaction and adopted the name Aurinia Pharmaceuticals.
Today, Aurinia says it is focused on developing therapeutics that can change the course of autoimmune disease.
The company is led by CEO Peter Greenleaf and still headquartered in British Columbia with its commercial hub based in Rockville, Maryland.
AUPH stock forecast
Despite the generally positive outlook from Oppenheimer, the analysts still gave the company a neutral rating with a 12 to 18 month price target of $33 per share, according to the report published in early November when shares were trading near their highs of around $30 per share.
"On the back of an approval for voclosporin (Lupkynis) at the beginning of the year, Aurinia has been focused on the commercial execution of the drug over the course of 2021," Kim and Singh said in their investment thesis. "Given recent share price appreciation and M&A speculation, we believe shares are appropriately valued.
The average AUPH stock price target of the six equity research firms that cover Aurinia is $33.17 per share, according to MarketBeat.
Oppenheimer and Bloom Burton each have neutral or hold ratings while HC Wainwright, SVB Leerink, Royal Bank of Canada and Cantor Fitzgerald all gave outperform or overweight ratings to the credit, according to MarketBeat.
When considering whether to invest in the company's stock, you should always do your own research, considering the outlook and relevant market conditions. A number of factors dictate whether stock prices rise or fall, including the company's fundamentals and broader macro-economic factors. There are no guarantees. Markets are volatile. You should conduct your own analysis, taking in such things as the environment in which it trades and your risk tolerance. And never invest money that you cannot afford to lose.
FAQs
Is Aurinia Pharmaceuticals stock a buy?

Four of six analysts covering Aurinia said it is a credit worth buying, according to MarketBeat. Analysts have rated it as a buy credit for at least the last year but more analysts are moving to a hold position. Oppenheimer and Bloom Burton both gave Aurinia a market perform rating in their latest reports.

However, analysts' predictions can be and have been wrong in the past. You should always do your own research and never invest more than you can afford to lose.
Will AUPH stock go up or down?

The average consensus among analysts is that the share price has a 65% upside from its current levels to around $33.17 per share. Analysts are calling for a price range of $23 to $40 per share. However, shares in the company have traded as low as $9.72 per share earlier this year.
Why is AUPH stock up?

The stock surged in late 2021 on speculation that Aurinia could be bought out by a larger pharmaceutical company such as Bristol-Myers Squibb, GlaxoSmithKline, Amgen, AbbVie, Johnson & Johnson or Otsuka, according to analysts. Still, there may also room for the company to grow organically as analysts from Oppenheimer see revenues rising by 291% in 2022.
Read more: Ocugen (OCGN) stock forecast: A booster boost or too little too late?