AUD/USD analysis: Aussie to drop again amid Chinese lockdown worries?
Subscribe to Weekly Highlights
The major market events for the week ahead right in your inbox.
Subscribe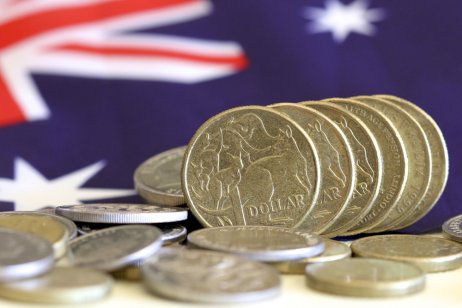 Content
Fears about lockdowns in China and weaker-than-anticipated economic data are exerting renewed downward pressure on the Australian dollar (AUD/USD), which had gained 5% in November and roughly 9% from its October lows.
The Chinese government, which is still committed to the Covid zero strategy, has dispelled the illusory hopes for an economic reopening that were breathed at the beginning of November. Covid restrictions are now causing protests around the population that risk strong repression by the central authorities and, as a result, may have a detrimental economic impact on Chinese growth.
Domestically, we start to notice declining consumption in Australia. In October, retail sales in Australia surprisingly fell 0.2% month-over-month, disappointing analysts ' expectations of a 0.5% increase and erasing a 0.6% increase from the previous month. Retail sales saw their first monthly decline this year and their lowest figure since December 2021 as rising interest rates and cost-of-living concerns in Australia restrained family spending.
Fears over Chinese growth combined with a slowing Australian economy may put pressure on the RBA to halt its interest rate cycle in Q1 next year. In November, the RBA reaffirmed its stance that it will do whatever is necessary to bring inflation to target levels, but also hinted that the size and timing of future rate hikes would be dependent on incoming data.
Will the Aussie face more selling pressure in the near term, or will the weakening US dollar environment keep the AUD bid?
AUD/USD and Chinese equities are strongly correlated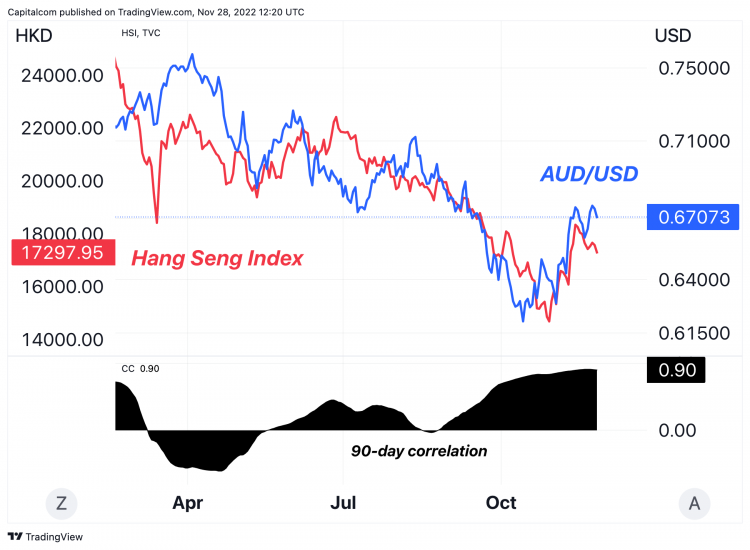 AUD/USD and Hang Seng index correlation – Photo: Capital.com, Source: Tradingview
Throughout the year, the Australian dollar's correlation with the Hang Seng index has been quite strong. The rolling 90-day correlation coefficient between AUD/USD and HK50 is 0.90, indicating that the two assets have moved in tandem in the last period.
The price action of the Hang Seng Index is obviously highly dependent on Chinese companies whose shares are traded outside of mainland China and hence accessible to offshore investors. Tencent (0070), Alibaba (BABA), and Meituan (3690) are among the top Hang Seng index components.
The AUD has suffered whenever sentiment toward Chinese stocks has deteriorated, and vice versa.
If fresh lockdowns and protest fears impair Chinese demand, adding to GDP worries for the quarter, the AUD could then experience some downside pressure again.
What is your sentiment on AUD/USD?
Vote to see Traders sentiment!
Interest rate outlook for Australia: What is the market pricing in?
| RBA meeting | Rate priced | Increase priced (bps) | Sum of increases priced (bps) |
| --- | --- | --- | --- |
| 06-Dec-22 | 3.05% | 24 | 24 |
| 07-Feb-23 | 3.26% | 21 | 45 |
| 07-Mar-23 | 3.40% | 14 | 59 |
| 04-Apr-23 | 3.50% | 11 | 70 |
| 02-May-23 | 3.62% | 12 | 82 |
| 06-Jun-23 | 3.71% | 9 | 91 |
Data as of November 28, 2022
Another 25-basis-point increase by the RBA at its meeting on December 6 is completely priced in by the market. This will mark the eighth straight increase in interest rates by the Australian central bank.
Since May, the Australian cash rate has been hiked by a total of 300 basis points. In November, the RBA also raised by 25 points, although missing expectations and becoming one of the first major central banks to slow tightening amid a weakening economic outlook.
The Reserve Bank of Australia's Governor, Philip Lowe, recently expressed a more flexible approach to monetary policy, while Deputy Governor Michelle Bullock stated that interest rates would likely rise further, but that a halt in rate hikes is approaching. These comments were rather dovish.
After December, the next RBA meeting will be in February 2023, and another 25-basis-point increase is not taken for granted. The RBA stated in November that it is dedicated to battling inflation, but that the degree and timing of rate hikes will be determined by incoming data.
In addition to October's negative retail sales, the service sector is also exhibiting signs of contraction. S&P Global Australia Services PMI fell to 47.2 in November 2022 from 49.3. It's possible that by the end of the fourth quarter, Australia's inflation rate will have already begun to show signs of a significant deceleration.
The market anticipates a total of 90 basis points of RBA increases by June 2023, but if domestic and global economic concerns continue to rise, along with this quarter's decline in inflation, the RBA may fall short of expectations and put downward pressure on the Australian dollar.
AUD/USD technical analysis: Double top signals bearish reversal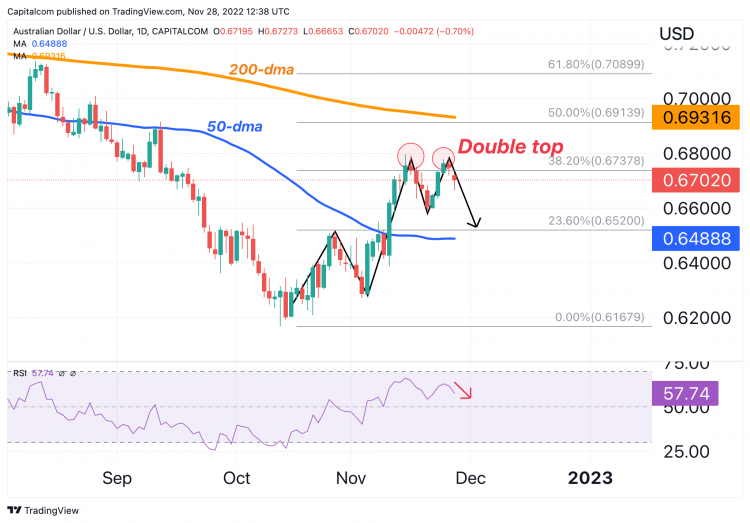 AUD/USD technical analysis daily chart as of November 28, 2022 – Photo: Capital.com, Source: Tradingview
Technically speaking, in the second half of November, AUD/USD established a double top at 0.678, which is often regarded as a bearish technical reversal pattern.
Additionally, the pair failed to successfully break through the 38.2% Fibonacci retracement line. Attempts by bulls to test levels near 0.69 (200-day moving average and 50% Fibonacci retracement) are somewhat challenging at the moment.
If Chinese growth concerns persist and Jerome Powell delivers hawkish statements, we could see an extension of the downside pressure on the AUD/USD in the coming weeks.
The following target support levels are at 0.652 (23.6% Fibonacci) and 0.649 (50-day moving average). If the moving average doesn't provide support, risks to retest November's lows at 0.627 could resurface.
Related reading