Aspen Group (ASPU) stock dips 27% as enrollment declines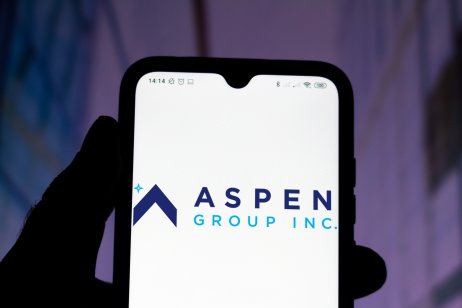 The higher education company Aspen Group's stock dived more than 27% Wednesday after reporting a second quarter loss as the pandemic reduced enrollment in its most popular program during the fiscal quarter.
At 3 p.m. EDT (UTC-5) the company stock was trading at $1.90, near its 52-week low of $1.85. The post-secondary higher education company's 52-week high was $12.02.
Denver, Colorado-based Aspen Group exited the quarter with an 8 cents per share loss versus the Zacks Consensus Estimate of 3 cents. This compares to loss of 5 cents per share a year ago, adjusted for non-recurring items, according to a company press release.
Losses less than projected
Last quarter, the company was expecting a loss of 5 cents per share, but posted a loss of 3 cents instead.
Within the last year, Aspen Group surpassed consensus earnings per share estimates twice.
Quarterly revenues jumped from $17m (£12.89m) in 2020 to $18.9m in 2021. However, the company had a net loss of $2.9m.
Covid impact
Aspen's CEO Michael Mathews attributed the heavy losses to a decline in enrollment in Aspen's licensed registered nurses' program, which includes nearly 70% of the student body.
Mathews said the nursing sector favors the school's business model in two ways.
First, a chronic nursing shortage will help the school expand its BSN Pre-Licensure nursing program. The US in in the midst of a nursing shortage which is expected to continue through 2030. The US Department of Labor expects 11 million more nurses will be needed by then.
Nurse practitioner program
Second, as registered nurses move to private practices, the health care community is recognising the economic benefits of FNP, the family nurse practitioner program offered by the school.
"When the Covid headwinds diminish, we anticipate that Aspen Group's revenue growth will accelerate, supported by our BSN Pre-Licensure expansion which has been relatively unaffected by Covid to date," he said.
Overall, nursing students represented 87% of the school's 14,200 students at the end of October.
At the end of Q2, the Aspen Group had cash or cash equivalents of $11m and restricted cash of $1.4m, the release states
Read more: Toro (TTC) stock down as supply chain trims Q4 earnings
Read more: Walmart-backed robotics company Symbotic going public