Are you paying attention? Global demand is tanking
By Macrodesiac
22:27, 28 September 2022
Tags
Subscribe to Weekly Highlights
The major market events for the week ahead right in your inbox.
Subscribe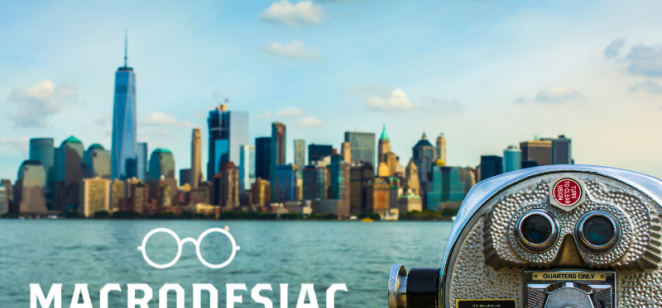 Content
The early focus this week was on the UK's big bold plans and the sterling (GBP/USD) market panic that followed. The reaction was incredible. Usually, when policymakers talk up an event, there's movement ahead of the announcement (pricing in) and then a reaction (often contrarian) once the event is over. Buy the rumour, sell the fact and vice versa.
Pound vs dollar (GBP/USD) exchange rate
The UK plans weren't even rumours. They'd been shouting it from the rooftops for weeks, yet markets were still shocked. Don't believe the 'efficient markets' hype. All of which got us wondering what else markets might not be paying enough attention to in the global economy. Starting with...
What is your sentiment on GBP/USD?
Vote to see Traders sentiment!
South Korean Exports
A leading indicator for global demand due to Korea's position in the worldwide supply chain, especially semiconductors (chips). South Korean industry benefited enormously throughout the COVID shock. The demand surge for electronic goods maxed their chip factories out, while domestic chip production also helped their auto industry. While some manufacturers had to stop vehicle production due to chip shortages, South Korean automakers just got on with the job.
Fast forward to the present day and Korean exports aren't looking so hot. Per Goldman Sachs:
Total exports during the 20 calendar days dropped 10.9% mom sa, with the decline accelerating from last month on negative workday effects.
Korea's workday-adjusted exports in the first 20 days of September fell 5.0% from a month ago, down for the second month after -6.0% in the previous month
Non-tech exports fell more sharply than tech exports, with petroleum and auto exports each falling 20.8% mom sa (not annualised) and -15.1% respectively.
Volatile ship exports also dropped 22.9%.
Here's what the workday-adjusted chart looks like. A sharp slowdown in export growth.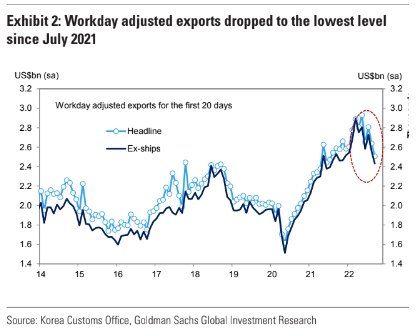 South Korea Exports
South Korean industrial production (next release is due in the Friday Asia session) will be an interesting datapoint. Digging a level deeper, semiconductor exports continue to weaken too.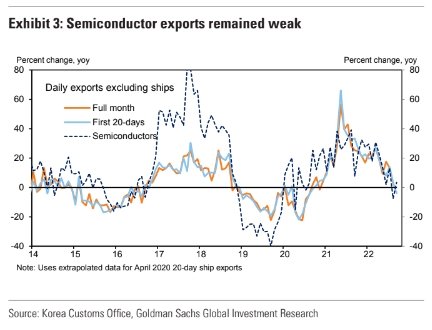 South Korean industrial production
And it's not just in South Korea. DigiTimes reported that Taiwan Semiconductor Manufacturing Company (TSMC) "has seen its major fabless customers start cutting back wafer starts for 2023, which may prompt the pure-play foundry to revise its sales outlook at an investors conference in January, according to industry sources".
Chipmakers cutting back production capacity isn't a sign of growth ahead. Micron will also report earnings on Thursday, after warning back in August that fiscal Q4 revenue may come below its revenue guidance range alongside a pretty dire statement for the following quarter.
In FQ1, bit shipments are now expected to decline sequentially, and we expect significant sequential declines in revenue and margins. We expect free cash flow to be negative in FQ1.
How negative is the big question.
So, that's a quick overview of the chip industry. It's not looking good. However, you can make the case that this doesn't necessarily reflect global demand patterns. Perhaps this is simply an inevitable market hangover after demand was pulled forward from the future and condensed into the pandemic period. However…
Freight and shipping costs are plunging
The latest shipping report from Drewry was an eye-opener. Their world container index has now fallen by 18% over the past two weeks, and the Shanghai to Los Angeles route hit $3,779 last week, half the price of three months ago: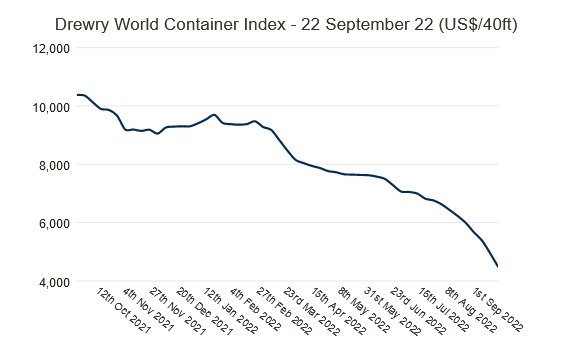 Freight costs chart
117 of 744 scheduled sailings (16%) for the next month have been cancelled too. A complete reversal of the pandemic period when companies such as CostCo (COST) were chartering their own vessels to ensure they could get goods across the oceans. Another indicator that global trade is slowing fast.
But is this just a return to 'normal' (whatever that is now), or the start of something deeper?
FreightWaves Founder and CEO Craig Fuller said he's "never seen freight rates drop as fast as they are on the ocean market right now" so whichever it is, we should find out pretty soon!
This slowdown also comes amid rumours of high demand for warehouse space, suggesting that excess inventories might not be shifting as quickly as hoped.
FedEx It
FedEx CEO Raj Subramaniam was in the headlines a couple of weeks ago after the global shipping firm's results disappointed.
"Global volumes declined as macroeconomic trends significantly worsened later in the quarter, both internationally and in the US. We are swiftly addressing these headwinds, but given the speed at which conditions shifted, first quarter results are below our expectations"
"We are seeing volume decline in every segment around the world,"
| | |
| --- | --- |
| Long position overnight fee | -0.0500% |
| Short position overnight fee | 0.0140% |
| Overnight fee time | 22:00 (UTC) |
| Spread | 66.00 |
| | |
| --- | --- |
| Long position overnight fee | 0.0486% |
| Short position overnight fee | -0.0751% |
| Overnight fee time | 22:00 (UTC) |
| Spread | 0.005 |
| | |
| --- | --- |
| Long position overnight fee | -0.0095% |
| Short position overnight fee | -0.0042% |
| Overnight fee time | 22:00 (UTC) |
| Spread | 0.03 |
| | |
| --- | --- |
| Long position overnight fee | -0.0166% |
| Short position overnight fee | 0.0059% |
| Overnight fee time | 22:00 (UTC) |
| Spread | 1.9 |
Asked if he anticipated a worldwide recession the CEO replied: "I think so; these numbers don't portend very well."
His comments were dismissed in some corners as "just a FedEx problem" but the rapid tumble in shipping rates gives his warning more weight. FedEx shares plunged on the announcement
FedEx (FDX) share price chart
The bigger they are, the later they fall?
Bloomberg got the inside track on Apple (AAPL) plans to cut back production. It's an anonymous 'sources' scoop so unconfirmed by the company themselves, but it's not an outlandish claim. Apparently, Apple has told suppliers to cut their efforts to increase assembly of iPhone 14 products by as many as 6 million units in the second half of 2022.
This takes production levels back to Apple's original forecast so it's no disaster. The decision to increase volume raised a few eyebrows when it was originally announced.
At the time, smartphone sales were already falling, and chipmakers were warning of slowing demand. Apple's announcement was contrary to the emerging trend.
The question now is if demand falters further meaning that further production cuts will be required to align with demand.
Apple stock has held up relatively well over 2022, down just over 14% YTD, compared to the S&P 500 which is down a little over 23% on the year.
Time to catch down?
Apple (AAPL) share price chart
'Expeditious' rate rises lead to expeditious growth shock?
The Federal Reserve has been expeditiously increasing interest rates. Presumably inspired by crypto's meteoric rise, the Fed is single-mindedly ignoring all arguments against their approach.
Rates are going one way: up only.
Other central banks around the world have followed, taking bond markets along for the ride. For how much longer though?
The Fed's doves are starting to cry a little louder. Chicago Fed president Charles Evans was asked about concerns that the Fed isn't taking time to assess the impact of their rate hikes on the economy.
He replied: "Well, I am a little nervous about exactly that", adding "there are lags in monetary policy and we have moved expeditiously. We have done three 75 basis point increases in a row and there is a talk of more to get to that 4.25% to 4.5% by the end of the year, you're not leaving much time to sort of look at each monthly release,"
Some central banks are starting to tap out. Brazil's aggressive cycle looks to have ended with rates at 13.75% after 12 consecutive hikes. Even the two dissenters only voted for an additional 25bps.
Hungary's central bank hiked by 1.25% (to 13%) and announced the end of their hiking cycle too. Inflation is expected to rise to 20% in the coming months but the central bank attributes this to the scaling back of energy subsidies and higher food prices, which monetary policy does nothing to address.
The Australian central bank has been warning about financial stability and the potential impact of rate rises on the housing market lately too. The RBA is expected to hike by 50bps next week, but the dovish communications suggest the pace of hikes may slow in subsequent meetings.
Summing up, worldwide trade is slowing 'expeditiously'. The global economy is being squeezed by inflation, interest rates, and energy uncertainty. We're heading rapidly towards the cliff edge. Will we be forced to jump? If so, how far do we fall before policymakers relent in their inflation battle and deploy the safety net of lower interest rates?
Related reading