Applied Blockchain is building co-hosted mining centres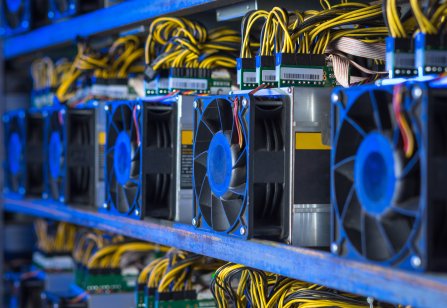 Content
A blockchain company from Dallas, Texas, is on a mission to take cryptocurrency mining into the future by building co-hosted mining centres.
Applied Blockchain, which currently trades on the over-the-counter (OTC) Pink Market (PINK) under the ticker (APLD), said in a regulatory filing it planned to move from the OTC market to the NASDAQ Global Select Market.
The company also stated that its data centres will primarily host equipment for the bitcoin network, but can also host artificial intelligence, machine learning and other blockchain equipment in the future.
The company plans to build its co-hosted data centre in North Dakota, which has some of the US's cheapest commercial electric rates per kilowatt hour (KWh) in the country, according to the Energy Information Administration (EIA).
It has already contracted with four customers – JointHash Holding Limited, Bitmain Technologies Limited, F2Pool Mining and Hashing LLC – for the centre. Each customer will be responsible for providing their own equipment, while Applied Blockchain pays for the energy in part from the revenue of its customers.
"With low-cost energy powering our co-hosting facilities, our customers can expect an agile and cost-competitive crypto-mining solutions," the company said in its prospectus, which was filed with the US Securities and Exchange Commission (SEC).
New crypto-mining business structure
Even though Applied Blockchain looks like an ordinary crypto-mining company on the outside, according to its prospectus, it is really trying to create a new business structure for the industry.
For starters, Applied Blockchain's data centres are all prefabricated, which makes them cheaper to build and easier to deploy.
Traditionally, cryptocurrency-mining companies spend big bucks on acquiring land and developing it into a data centre – a process that can take years, given the local zoning approvals required.
The company's next focus will be on growing its business through a co-hosting model that will run in similar ways to companies such as WeWork. This model will make Applied Blockchain's business structure "conducive to a [real estate investment trust (REIT)] structure" where investors buy-in to the value of the trust's portfolio rather than the value of each building's use and production.
From mining to real estate
Applied Blockchain said it will focus on mining both bitcoin (BTC) and ethereum (ETH), though it plans to shift gears to solely focus on the co-hosting side of its business.
One of the reasons the company mentioned for this shift is the global uncertainty regarding crypto-mining operations. Applied Blockchain pointed to the crackdown in China on crypto-mining as one reason why it had shifted its focus towards real estate.
The company still intends to accept cryptocurrencies as payment from its co-hosts, which it said would be "to hold digital assets [it] mines for investment or conversion into fiat currency for working capital purposes" as it winds down its mining operations.
Company revenue
For all of Applied Blockcain's talk about co-hosting and real estate holdings being its competitive advantage, the company's revenue tells a different tale.
The company earned just $1.4m (£1.02m, €1.22m) during the three months ended 31 November 2021. That revenue total turned into just $36,000 of net income and an earnings before interest, tax, depreciation and amortisation (EBITDA) of just over $297,000.
Applied Blockchain's unaudited cash flow totals reached $1.4m during the same quarter, according to the prospectus.
About the offering
Applied Blockchain plans to sell more than 210 million shares during its initial public offering and expects to raise a total of $75m.
The company added that "the amounts and timing of our actual use of net proceeds will vary depending on numerous factors" and, as a result, "management will have broad discretion in the application of the net proceeds".
Applied Blockchain currently trades on the OTC market under the ticker APLD.
Read more: Can a Bitcoin Mining Council make crypto biodegradable?