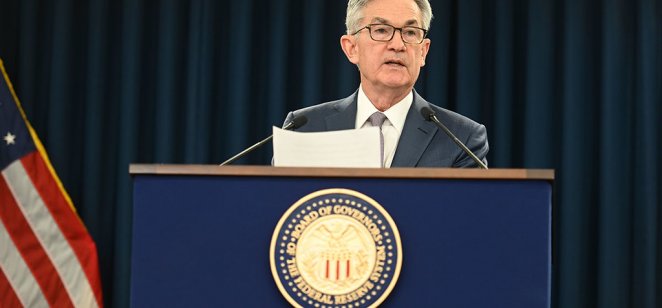 Jerome Powell was tapped to serve a second four-year term as Federal Reserve chair signalling president Joe Biden's preference for stability at the central bank during a critical period where rates are expected to rise in coming years.
Markets reacted positively with the Dow Jones Industrial Average up as much as 0.9% on the day while Treasury yields increased across the curve on expectations that Powell is more likely to raise rates next year.
"It will serve to instill confidence in the market and continuity at such a fragile time of inflation," Ronald Quigley, head of fixed income syndicate at investment bank and brokerage firm Mischler Financial Group, told Capital.com "The markets now have leadership clarity at the Fed as we wind down this year ahead of the holidays.
Rates rising
Federal Reserve governor Leal Brainard, who was viewed as Powell's biggest challenger to the position, was tapped to serve as vice-chair by President Biden.
Brainard was favored by the progressive wing of the Democratic Party as she was expected to bring more strict regulatory scrutiny of banks and was viewed as the more dovish choice on rate increases – meaning she was more likely to keep the low lending rate policies of the Fed in place longer.
Following Powell's nomination, Treasury yields from short-end two-year notes to long 30-year bonds were trading up by 6 to 8 basis points. The 10-year benchmark rose by 7 basis points to 1.61%, up from Friday's 1.54% close.
"I think the kneejerk reaction in the rates market reflected the fact that Powell is viewed as somewhat less dovish than Brainard," Amherst Pierpont's chief economist Stephen Stanley told Capital.com. "Hence, higher rates, under the assumption that rate hikes may come a bit sooner than if Brainard was the chair."
Political angle
Powell is a Republican who was made chair by ex-President Donald Trump, a fact that is expected to draw criticism from some Democrats.
"From a policy standpoint, Powell has done nothing to merit being ousted, other than to have been moved to the chair by Donald Trump," Rich Sega, global chief investment strategist at Conning, told Capital.com prior to Monday's announcement. "One might suppose that the Biden Administration would prefer someone wearing the same team shirt in that role. Clearly, the progressive wing wants him out."
Warren opposed
Democratic Sen. Elizabeth Warren said she would oppose Powell's nomination in comments made to the media Monday citing "failures on regulation, climate and ethics."
However, Sen. Sherrod Brown, Democrat of Ohio and the chair of the Senate Banking Committee that oversees the Fed, supported his nomination. Brown noted Powell's work in helping the economy recover from the pandemic.
"Powell, though a Republican, has enjoyed bipartisan support in his role," Quigley said. "The trend has been for presidents to keep Fed chiefs. Biden needs all the help he can get, and this rather no-brainer decision was one of the easiest to make and will likely be the single most consequential one of his administration."
What's next at the Fed?
Powell's nomination is widely expected to pass the Senate with a simple majority vote given the overwhelming support for his first term, Bank of America analysts wrote in a report obtained by Capital.com. Of the 84 confirmations Powell received for his first term, 69 of those Senators are still in office.
Still, there are three more nominations to fill on the Board of Governors, which could greatly change the Fed's outlook on regulation of the banking sector and move consensus opinions on when and how to raise rates.
Some of the top contenders for these seats include Michigan State University economist Lisa Cook who would be the first black woman to serve as Fed governor, and William Spriggs, chief economist at the American Federation of Labor and Congress of Industrial Organizations (AFL-CIO) and economics professor at Howard University.
Stringent on regulation
Nominations for the role of vice-chair of supervision are expected to be more stringent on regulations and include Sarah Bloom Raskin, who previously served as Fed governor; Michael Hsu, the acting comptroller of the currency; and Kathryn Judge, an expert on financial markets and regulation at Columbia Law School, BofA wrote in the report.
"The nomination of Powell and Brainard suggest continuity at the Fed given that they have generally been in alignment when it comes to the embrace of the new framework," BofA analysts wrote. "However, they will face a distinctly different economy in the years ahead than in the most recent ones. Inflation is already at uncomfortably high levels with elevated long-run expectations. … They will have to navigate the removal of accommodation to contain inflation without sacrificing the success on the labour market recovery."