Analysts: Peloton (PTON) stock has upside after falling 40%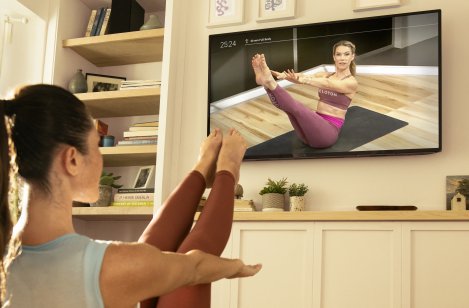 Peloton raised around $1.1bn (£820,000) on Tuesday in a new sale of common stock priced below market value after the company burned cash and its stock fell by more than 40% since the start of the month.
The workout equipment company was growing rapidly during the pandemic as consumers turned to exercising at home.
However, Peloton's latest earnings from earlier this month showed a second consecutive quarter of declining revenue and fewer monthly workouts per subscriber. The stock fell below $50 per share this week – more than a 73% decline from its 52-week high of $171 per share.
Despite these negative developments, Peloton shares were up by 13% on Tuesday, mildly reversing some of the losses, and analysts still see an upside from the lows.
Analyst guidance
Bank of America lowered its price target to $74 per share from prior guidance of $112 per share ahead of the Tuesday stock sale.
While the price target is much lower, it also represents a more than 37% upside to where the shares were trading on Tuesday.
Despite the decline in monthly workouts, Peloton's subscriber base continues to grow, hitting nearly 2.5 million in the latest quarter, and Bank of America still sees a path to reaching 40 million subscribers.
The analysts also noted the company's high consumer satisfaction ratings, low monthly churn rates and similar guidance misses from competing at-home fitness peers.
"Peloton has been our most disappointing stock in 2021, but we think in-home fitness growth is far from over," BofA research analysts Justin Post and Joanna Zhao wrote in a report obtained by Capital.com. "While it is clear the pandemic (created) inflated demand and subscriber growth in 2020, it is also possible the reopening and unsustainable competitive marketing is depressing growth in 2021."
What is your sentiment on PTON?
Vote to see Traders sentiment!
Funding needs
Companies typically look to raise money through the sale of common stock when their share price is at a high and can fetch a premium in the sale. Peloton did the opposite, selling 23.9 million shares at $46 per share, which is near its 52-week low price.
The fundraising comes just weeks after Jill Woodworth, chief financial officer of Peloton, said during an earnings call, "We don't see the need for any additional capital raise based on our current outlook."
Peloton ended its latest quarter with $924.2m in cash, cash equivalents, and investments in marketable securities while holding onto a $285m in revolving credit that remains undrawn. However, the company reported net losses of $376m in the quarter while also lowering full-fiscal-year revenue guidance by as much a $1bn to $4.4bn to $4.8bn.
Read more: Peloton falls 25% after missing revenue, EPS estimates