Analyst: Ark's large purchases of Zoom (ZM) stock a reasonable bet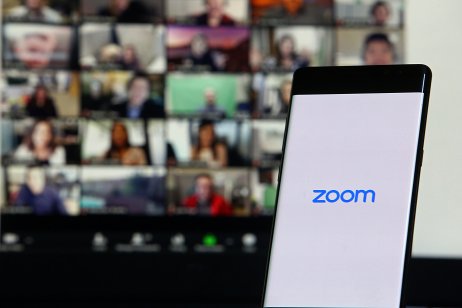 Two ARK Invest exchange-traded-fund purchases of more than 600,000 Zoom shares in the wake of their price plunge are worth the gamble, according to an analyst.
"To me, (Zoom) is a reasonable bet," Ryan Koontz, managing director of Needham & Company, told Capital.com on Wednesday 24 November. "I'm certainly more positive on the stock down here (at the current price level) than I was over the past year.
"I still have a neutral rating on it, so I can't tell people to buy it, but it's definitely more interesting," Koontz said.
Billionaire Catherine Wood's Ark Innovation ETF bought 538,573 of the US videoconferencing's company's shares on Tuesday 23 November, daily trades posted by Ark show. Meanwhile, the Ark Next Generation Internet ETF acquired 106,537 Zoom shares.
Price rebounds slightly
Following the purchases, Zoom's stock price rebounded slightly on the Nasdaq Global Select Market.
Ark scooped up the Zoom stock after the share price closed down 14.7% on Tuesday. The stock had dipped more than 6% in extended trading Monday 22 November after the company released its latest earnings report.
Nothing overly mysterious
"I think it's all making sense," said Koontz of the price recovery. "There's nothing that's that mysterious."
But investors are trying to gauge Zoom's earnings-growth potential after pandemic-induced demand for the company's products and services drove the stock price to "crazy levels."
"The safest way to value stock is to look at year-over-year revenue growth and earnings growth and, in this case, it's really hard to do that – because last year at this time, Zoom created the most difficult year-over-year compare that I've known in my investment history," Koontz said. "Last year, they were putting up almost 400% year-over-year (revenue) growth, which is unheard of in any business.
"That really demonstrated the power of the (Zoom) platform and the power of building software in the cloud, that you could just scale it (up) infinitely on demand. But you can't really use that year as your (comparison) because that was a big pull forward."
Investors eye sequential patterns
Instead, investors are looking at sequential increases. Koontz said Zoom recorded double-digit quarter-over-quarter increases for several years. But quarter-over-quarter revenue "rocketed up to 100% as more people worked remotely during the peak of the pandemic.
"Now, it's normalised," he said. "This last quarter, sequential growth was 3%, which is the lowest it's ever been, and they guide the next quarter to zero. So flat revenue (quarter-over-quarter.) That's an alarm sign. That's why the stock is going down."
Zoom boosted its revenue 35% year-over-year. But, like the company, Koontz and other analysts anticipate future headwinds.
Sustained growth
"Everyone's trying to figure out what the real, sustainable growth rate looks like for this company – and no one really knows," Koontz said.
Investors are questioning how much Zoom's small-business segment will decline as the global economy recovers from the pandemic and some workers return to offices, he added. Small and micro-sized companies account for about one-third of the company's revenue.
"The micro segment – less than 10 employees – is in decline now, and that's causing a lot of heartache among investors," Koontz said.
Zoom's small-business segment is "not very sticky," he added.
Selling to small companies
"You're mostly selling to a person or a small group of persons in a small company," he said. "And, (small business) is notorious for having a very short sales cycle and ability to make changes on the fly.
"(Small companies) can change suppliers in a day where, if you're a big enterprise and deploying Zoom over 50,000 employees, you're probably not going to make that decision for five years. … So there's a real dichotomy going on in (Zoom's) business, and that's really clouding the numbers up as to what's going on and what the future looks like."
Zoom's 65% enterprise segment revenue growth widely outpaced the 35% overall revenue increase during the latest quarter, he noted. But enterprise revenue is still "a pretty small number."
Cisco and Microsoft are big competitors
"And, they've got some serious competitors in enterprise," Koontz said. "Cisco is the big incumbent, and they just rolled out a whole new set of features and much more aggressive pricing in the enterprise, and Microsoft Teams is absolutely crushing at the enterprise.
"Those are two competitors that I'm not sure Zoom is going to beat."
Zoom said 2,507 customers contributed $100,000 in trailing 12-months revenue, up 94% from the same period a year earlier. But "one quarter does not a story make," Koontz said.
Enterprise needs to be main story
"They need to sustain some really strong growth in that segment," he said. "For years, that needs to be the main story going forward."
Generally, investors place more value on enterprise revenue growth than small-business-related increases.
"So that's why the stock's in so much blocks – because, I think, investors are discounting further the low end of the business since its declines," Koontz said.
Koontz expects Zoom's stock price to remain in a state of flux for two more quarters until April 2022 when, he hopes, "things get back to normal."
"If these guys can get back to 4% to 5% (quarter-over-quarter) growth – mid-single-digit growth – I think the stock will work," he said.
Read More: Black Friday weekend expected to draw record sales numbers