Analysis: The UK's delivery driver crisis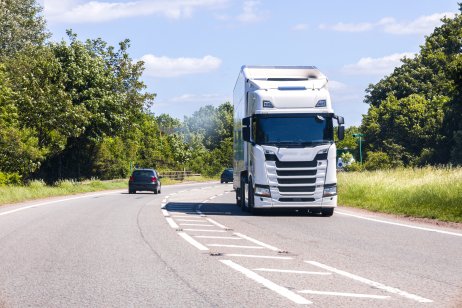 Thousands of lorry drivers in the UK have climbed back behind the wheel in recent months to help solve the ongoing supply chain crisis threatening to derail Christmas.
A major government review into training for both existing and returning heavy goods vehicle (HGV) drivers has also been announced in a bid to head off future problems.
But will these two factors be enough? Here we analyse what has happened over the summer months and reveal what is still required to provide longer-term, sustainable solutions.
The background
The severe shortage of HGV drivers has been blamed on a number of factors, including an ageing workforce and not enough younger drivers entering the industry.
The issues have been exacerbated by HGV driving tests not taking place during the Covid-19 pandemic that took hold in early 2020.
Increased global demand for products, particularly as coronavirus restrictions have started to ease, has only added to the problems.
Returning drivers
However, there is some positive news – at last. Almost 30,000 HGV drivers got back behind the wheel in the third quarter of 2021, according to Driver Require, a specialist recruitment agency.
Its latest bulletin, entitled 'The HGV Driver Shortage Crisis', said this resulted in a 40% recovery of the drop in numbers experienced since the beginning of the pandemic.
"We are, therefore, optimistic that we have reached a turning point in the UK's HGV driver crisis and the shortage is moving to 'severe' rather than 'crisis' levels," it stated.
More is needed
However, Driver Require insists that "urgent and sustained concerted action" is still needed to address poor employment conditions and the lack of adequate-quality secure HGV parking in the UK.
"Only this will prevent continued churn of HGV drivers out of the sector due to disillusionment with the poor-quality working environment," it added.
The study also noted that supply chain bottlenecks were being caused not only by too few HGV drivers, but also by warehouse labour shortages and a lack of shipping containers.
Current driver numbers
An estimated 268,000 people were employed as HGV drivers between July 2020 and June 2021, according to figures compiled by the Office for National Statistics.
"This is 39,000 fewer than the year ending June 2019 and 53,000 fewer than the peak for HGV driver employment, during the year ending June 2017 (321,000)," it stated.
The ONS study also noted how the number of HGV drivers had fallen since June 2017. The largest decline over the four years was among those aged 46 to 55 years.
Vacancies in the industry
The ONS also revealed there were 52,000 vacancies for posts in transport and storage in the three months ending September 2021 – the highest since records began in 2001.
"HGV drivers make up around 10% of the transport and storage industry, which also includes rail and sea transport as well as road transport occupations such as taxi drivers and bus drivers," it added.
Compulsory driver training
The government has announced a "sweeping review" of compulsory ongoing training for HGV and bus drivers.
Drivers currently need to undergo five days of periodic training every five years to ensure they remain fully qualified and up to date with road safety standards.
This EU initiative is compulsory within what is known as the Driver Certificates of Professional Competence (DCPC) regime.
Problems with training
The downside is that some drivers are left to pay for this training themselves – and aren't paid while attending the courses, according to the government.
"Feedback from industry suggests this puts off many drivers who have left the profession from returning," it stated.
Therefore, the review will look at how the process can be updated to reduce the burden on drivers – both returning and new – and ensure it doesn't act as a barrier to working in the sector.
Drivers loathe training rules
According to the Road Haulage Association (RHA) trade body, drivers hate the certificates of competence and loathe the idea of having to sit in a classroom before getting back on the road.
"Driver CPC creates a barrier for experienced qualified lorry drivers returning to the cab. It puts a hurdle in the way, adds complexity, and is seen by many drivers as pointless," it stated.
The RHA has suggested what it classes as a "simple compromise" to the problem: one day's classroom CPC in return for one year's driving.
Thirty measures
According to transport secretary Grant Shapps, the training review is the latest in a raft of around 30 measures taken to support the sector and get drivers back behind the wheel.
These include relaxing drivers' hours rules, increasing the number of HGV driving tests, investing £32.5m ($43.3) in roadside facilities, and easing restrictions on late-night deliveries to supermarkets.
"These measures are working," said Shapps. "There is no backlog of HGV licence applications and we're seeing over a thousand more people than normal apply for a licence each week."
Read more: Thousands of lorry drivers needed to help tackle crisis