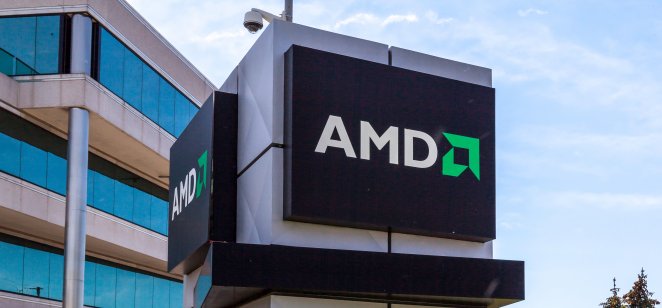 Content
The stock price of US tech firm Advanced Micro Devices (AMD) has been in the slump for more than seven months.
Despite solid operational and financial performance in the second quarter, AMD stock has lost 32% of its value year-to-date (YTD). Weakening global sales of personal computers (PC) due persisted supply chain problems and inflationary pressures have raised concerns over semiconductor demand.
Will these issues continue to cap AMD stock price, or will the stock reverse its downtrend? In this article, we look into AMD's historical price, its latest earnings and news that could help to form a plausible AMD stock forecast.
The Advanced Micro Devices story
Advanced Micro Devices (AMD) is a global technology company based in the United States that produces a wide range of processors, graphics, video and multimedia products.
Based in Santa Clara, California, AMD is a global leader in the microprocessor industry. The company's products include accelerated processing units (APU), graphics processing units (GPUs) and System-on-Chip (SoC). It also produces server processors and technology for game consoles.
AMD invests in high-performance GPUs and software for markets such as gaming, artificial intelligence, cloud gaming, and virtual and augmented reality.
Jerry Sanders and seven former employees of Fairchild Semiconductor founded AMD in 1969 in Sunnyvale, California. Fairchild Semiconductor was a pioneer in integrated circuits and transistors production.
Three years after its establishment, the company issued 620,000 shares of common stock for over-the-counter (OTC) trading at $15.50 a share on 27 September 1972. It raised a total of $7.5m from the public offering. In October 1979, AMD debuted on the New York Stock Exchange (NYSE). However, it transferred its stock to the NASDAQ Stock Exchange on 2 January 2015.
AMD initially concentrated on producing logic chips. The Am2501 logic counter, the company's first proprietary product, was released in 1970 and was a huge success. To attract more customers, AMD started to broaden its products to include high-performance memories and networking.
The company expanded its business as its customer base increased, opening an assembly plant in Malaysia and increasing the size of its headquarters in Sunnyvale. In just five years after its establishment, AMD was manufacturing more than 200 products – many of them proprietary and had close to $25.5m in annual sales, according to Silicon Valley Historical Association.
Today, AMD products power a broad-range of consumer electronic products from laptops, personal computers to gaming devices and cloud computing. Clients including Meta (FB), Alphabet (GOOGL) and Microsoft (MSFT). Its processors power notebooks and PCs produced by top producers, including Dell and Hewlett-Packard (HPE).
What is your sentiment on AMD?
Vote to see Traders sentiment!
AMD stock performance
In the past five years, the chip maker's share value has been in the uptrend, surging about 656% (as of 3 August 2022).
AMD has also delivered trailing returns of 37.98% over the last 10 years, outperforming the industry's 20.38%, based on Morningstar's data, as of 3 August.
Buoyed by the semiconductor demand boom during the Covid-19 pandemic, the company's share value nearly doubled in 2020 and gained 56.9% in 2021.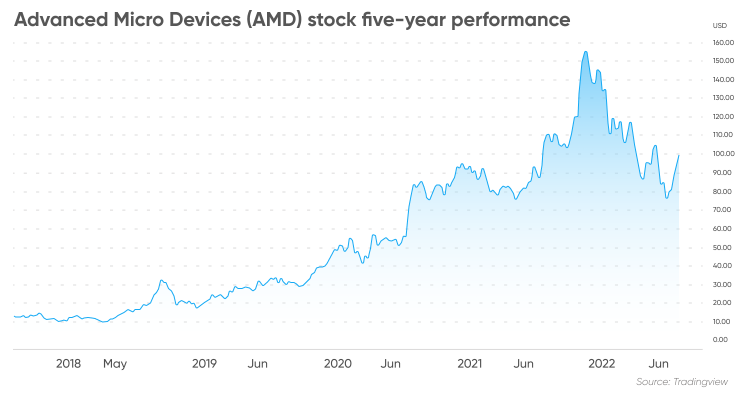 In 2022, the trend reversed and the AMD stock price headed downward.
Monetary tightening in the US and elsewhere has raised concerns about recession, which could hurt demand for consumer electronics, including PC, laptops and games. In addition, the slump in crypto markets has heightened worries about demand for GPU used in crypto mining.
The stock was traded at $99.29 on 2 August, about 39% below its 52-week high of $164.46 hit in late November 2021. At the time of writing (3 August) the stock has dropped 32% since the start of the year, according to TradingView data.
2Q earnings beat estimate
Advanced Micro Devices still delivered better-than-expected earnings results in the second quarter of this year. The chip maker's revenue in the second quarter jumped 70% to $6.55bn, up from $3.85bn in the prior-year period, the company announced on 2 August.
Reported adjusted earnings per share of $1.05 beat analysts' estimates of $0.90, as tracked by MarketBeat.
All four segments – data center, client, gaming and embedded – reported solid revenue growth in the quarter.
Data center's revenue grew 83% year-over-year (YoY) to $1.5bn in the second quarter, driven by strong sales of its EPYC server processors. Client segment booked revenue of $2.2bn, a 25% increase YoY, boosted by sales of Ryzen mobile processors.
| | |
| --- | --- |
| Long position overnight fee | -0.0308% |
| Short position overnight fee | -0.0137% |
| Overnight fee time | 21:00 (UTC) |
| Spread | 0.07 |
| | |
| --- | --- |
| Long position overnight fee | -0.0064% |
| Short position overnight fee | -0.0059% |
| Overnight fee time | 21:00 (UTC) |
| Spread | 0.28 |
| | |
| --- | --- |
| Long position overnight fee | -0.0064% |
| Short position overnight fee | -0.0059% |
| Overnight fee time | 21:00 (UTC) |
| Spread | 0.38 |
| | |
| --- | --- |
| Long position overnight fee | -0.0064% |
| Short position overnight fee | -0.0059% |
| Overnight fee time | 21:00 (UTC) |
| Spread | 0.08 |
The gaming segment revenue increased 32% YoY to $1.7bn on higher semi-custom product sales, which offset a decline in gaming graphics revenue. Embedded segment revenue soared 2,228% YoY to $1.3bn, driven by the inclusion of Xilinx embedded revenue. AMD acquired Xilinx in February 2022.
The company generated a record $1.04bn cash from operations in the second quarter, compared to $952m a year ago.
For the third quarter of 2022, AMD expects revenue to be $6.7bn, plus or minus $200m. It represents a 55% increase YoY led by growth in the Data Center and Embedded segments.
AMD has kept its revenue target for the full year of 2022 at $26.3bn, plus or minus $300m which is an increase 60% over 2021, led by growth in the Data Center and Embedded segments.
AMD stock forecast: Latest news and price drivers
Slowing PC sales globally, is one of its main concerns, including AMD.
According to Gartner, global PC shipments in the second quarter of 2022 fell 12.6% YoY to 72 million units, the sharpest decline for the global PC market in nine years. The company reported that sales dropped in all regional markets amid geopolitical, economic and supply chain challenges.
"The decline we saw in the first quarter of 2022 has accelerated in the second quarter, driven by the ongoing geopolitical instability caused by the Russian Invasion of Ukraine, inflationary pressure on spending and a steep downturn in demand for Chromebooks,"
said
Mikako Kitagawa, Gartner's research director, in a statement on 11 July.
PC delivery had suffered delays due to logistics disruptions with buyers experiencing longer lead times, although it has begun to improve partly due to reopening key cities in China from fresh Covid-19 lockdowns by end of the second quarter, Kitagawa said.
"To maintain profits as inflation increases costs, the PC industry is having to raise average selling prices (ASPs) despite weakening demand," Kitagawa added.
While AMD reported strong revenue for Client segment which include desktop and notebook PC processors, AMD Chair and CEO Lisa Su acknowledged softening global PC sales.
"Taking a step back, while there has been additional softness in the PC market in recent months, we believe we are very well positioned to navigate through the current environment based on the strength of our existing product portfolio and upcoming product launches," said Su in the company's earnings call with analysts on 2 August.
"We are being more conservative in our PC outlook. Our PC outlook now at mid-teens would kind of put the market at somewhere around, let's call it, 290 million to 300 million units. So I do think we've appropriately de-risked the PC business," she added.
Advanced Micro Devices stock predictions 2022 – 2030
Do analysts have positive AMD stock forecasts?
Jefferies rated AMD stock a 'buy' with a price target of $147.
"AMD executes on product roadmap maintaining a lead vs. competition driving share gains across server, desktop and notebook markets," Jefferies' analysts Mark Lipacis and Brian Chen wrote on 10 June.
They also viewed AMD growing the performance of its desktop segment with Zen, in the server market with EPYC products and in the professional graphic business with Navi.
As of 3 August, the consensus view of 28 analysts tracked by MarketBeat rated the stock a 'moderate buy'. In all, 20 analysts rated it a 'buy' and seven a 'hold'. One analyst rated AMD a 'strong buy'.
The analysts expected the AMD stock price to increase 28.52% to $127.61 a share in a 12-months period, up from the closing price of $99.29 on 2 August. The highest Advanced Micro Devices share price forecast was $200 and the lowest $85.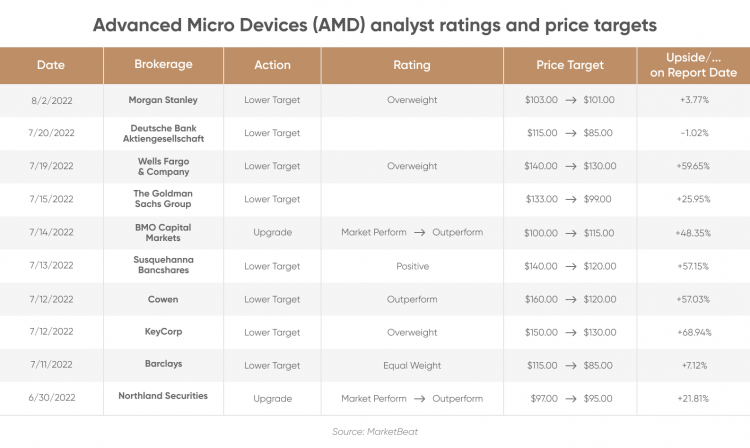 Using historical prices to generate an Advanced Micro Devices stock forecast for 2022, Wallet Investor suggested that the stock could reach $111.71 by the end of the year. The algorithm-based forecasting service rated the stock a "good long-term (one year) investment".
The Advanced Micro Devices stock forecast for 2025 from Wallet Investor suggested the stock could almost double to $202.194 by the end of the year. Its AMD stock forecast saw the price hit $242.809 in July 2027.
Note that Advanced Micro Devices stock predictions based on analyst and algorithmic forecasts can be inaccurate. You shouldn't rely on forecasts in place of your own research. Always do your own due diligence to assess the potential of a stock. Keep in mind that your choice to trade or invest should be based on your risk tolerance, market knowledge, portfolio size and objectives.
Past performance doesn't guarantee future returns. And never trade money you cannot afford to lose.
FAQs
Is Advanced Micro Devices a good stock to buy?

Analysts tracked by MarketBeat recommended a 'buy', as of 3 August. Whether AMD stock is a suitable asset for you depends on your personal trading goals and your own research.

It's important to always draw your own conclusions about the stock's prospects and possibility of meeting analysts' targets. Remember that past performance does not ensure future returns. And never invest money that you cannot afford to lose.
Will Advanced Micro Devices stock go up or down?

Analysts polled by MarketBeat and Wallet Investor's algorithm-based forecasting system suggested that the stock price could rise (as of 3 August). However, there are many factors that can influence a company's stock, from the company's business strategy to the macroeconomic environment. Note that any AMD stock forecast from analysts can be wrong.
Should I invest in Advanced Micro Devices stock?

Your decision to invest in Advanced Micro Device (AMD) stock should depend on your risk tolerance, investment objectives, portfolio composition and experience in the markets. You should conduct your own research. And never trade with money you cannot afford to lose.
Further reading: