Aluminium price halves in six months: Has Al hit rock bottom?
Subscribe to Weekly Highlights
The major market events for the week ahead right in your inbox.
Subscribe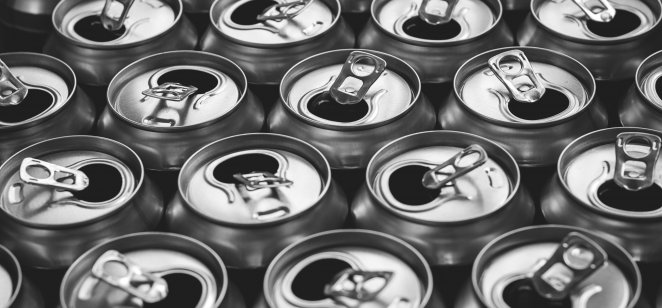 Content
Aluminium prices are currently trading near 18-month lows, hovering around $2,245 per tonne. This is mostly due to falling demand as well as weakened commodity, especially metal prices worldwide, due to investors speculating about a potential recession and central banks warning about global economic slowdown. A stronger US dollar (DXY), as well as continuously rising interest rates by central banks, especially the US Federal Reserve, are all also contributing to aluminium woes.
Aluminium has dropped about 48% since March highs
Why have aluminium prices almost halved since March?
Aluminium has been severely pressured in recent days due to weakening demand, as top consumer China still struggles to recover from the harsh blows of ongoing COVID-19 restrictions, including lockdowns.
Although China has recently announced more stimulus measures to combat this scenario, it will still be a few months before the effect of these measures can reflect onto aluminium prices.
Furthermore, a rapidly strengthening US dollar (DXY), which has recently climbed to about 20-year highs in the past few trading sessions, have also contributed to aluminium's subdued prices. .
The energy crisis is also still raging, now having somewhat shifted focus from China to Europe, which is seeing an increased number of smelter shutdowns, also contributing to subdued aluminium prices and demand. This has been compounded by the fact that Russia has all but declared an outright energy war against Europe.
Not only that but new mystery leaks in Russia's underground pipelines in the Baltic Sea have also surfaced and they are not the first of their kind in recent times, quelling hopes of the energy crisis ending anytime soon.
What is your sentiment on Aluminum?
Vote to see Traders sentiment!
Aluminium technical analysis
Aluminium last saw a death cross, which is the 50-day moving average moving below the 200-day moving average on the 15th June. This indicated that the base metal was moving towards a long downtrend.
| | |
| --- | --- |
| Long position overnight fee | 0.0408% |
| Short position overnight fee | -0.0658% |
| Overnight fee time | 22:00 (UTC) |
| Spread | 0.005 |
| | |
| --- | --- |
| Long position overnight fee | -0.0182% |
| Short position overnight fee | 0.0065% |
| Overnight fee time | 22:00 (UTC) |
| Spread | 0.040 |
| | |
| --- | --- |
| Long position overnight fee | -0.0024% |
| Short position overnight fee | -0.0116% |
| Overnight fee time | 22:00 (UTC) |
| Spread | 0.03 |
| | |
| --- | --- |
| Long position overnight fee | 0.0007% |
| Short position overnight fee | -0.0149% |
| Overnight fee time | 22:00 (UTC) |
| Spread | 0.04 |
However, aluminium's relative strength index (RSI) shows some signs of a silver lining, as it has just dipped below 30 on the 26th September, which indicates that aluminium is now entering the oversold territory. Thus, chances of an upswing could present itself in the coming months as the metal bounces back to what investors would consider its true price.
The industrial metal also saw a bearish Doji Star on the 22nd March, which also indicated that aluminium was about to see a trend reversal to the downside. This was highlighted by the metal falling about 39% since then.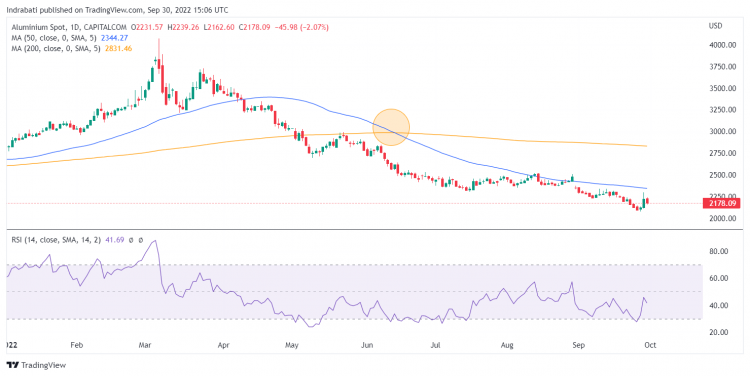 Aluminium saw it's last death cross on the 15th June – Credit: TradingView
What is the outlook for aluminium for the rest of 2022?
According to the Westpac Market Outlook for August 2022 report, aluminium is expected to trade at approximately $2,500 per tonne by the end of the year, almost $250 more than it currently is. By September 2024, however, Westpac expects the metal to plunge back down to about $1,993 per tonne.
Higher interest rates by the US Federal Reserve and the Bank of England recently have also considerably worried aluminium manufacturers, as the cost of borrowing increases along with the cost of energy. Since aluminium is a highly energy intensive metal to manufacture, in the near term, this is likely to be a loss-making metal, hence prompting manufacturers to turn to other metals.
This may lead to a shortage of aluminium in the market, especially as we have already seen Australia banning alumina supplies to Russia in recent months. As such, this may lead to higher aluminium prices in the near future, as expected by the Westpac Market Outlook.
Related reading