Adani Power share prediction: Powering up for a bright 2022?
Subscribe to Weekly Highlights
The major market events for the week ahead right in your inbox.
Subscribe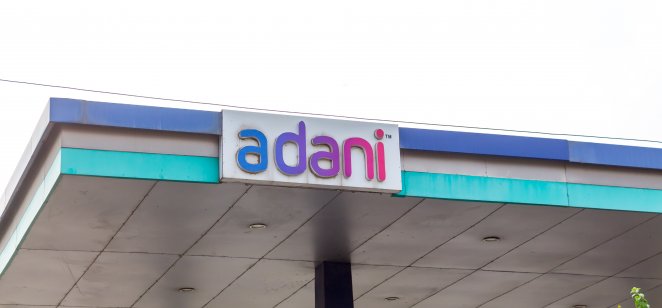 Content
Powering over 35 million homes in India, Adani Power is the largest private thermal power producer in the country. Founded in 1996, the company lies within the broader industry of energy services. Its product portfolio includes electricity generation, sale and distribution, as well as energy trading. Adani Power is traded on the National Stock Exchange (NSE) as well as the Bombay Stock Exchange (BSE).
With an existing power generation capacity of 12,450 megawatts (MW), its current power projects are spread across five Indian states: Gujrat, Maharashtra, Rajasthan, Karnataka and Chhattisgarh. The company has plans to add more than 7,000MW of capacity to its overall ecosystem by placing additional power plants in Jharkhand and Madhya Pradesh.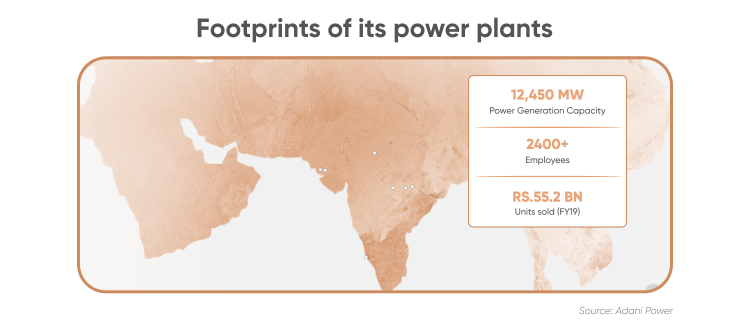 Part of the Adani Group, Adani Power opened India's first supercritical power plant at Mundra, in Gujrat. Supercritical power plants can operate under higher temperatures and pressure conditions than regular power plants. Using supercritical technology also reduces CO2 emissions by more than 20%.
Chairman Gautam Adani lauded the initiation of this power plant:
"This 660MW unit is the world's first supercritical technology-based project to be certified for carbon credit under the United Nations' Framework on Climate Change."
In its latest financial results published on 5 May, Adani Power reported a significant increase in its bottom-line numbers. The company reported INR49.12bn ($635m) profit after tax for the year, an increase of more than 280% from the FY 2021 figure of INR12.7bn.
With its encouraging financial results, what does the Adani Power share future prediction look like? Join us as we dig deeper into its financials and latest news, and outline a plausible Adani Power stock forecast.
Adani Power stock fundamental analysis
In its financial results for the quarter and year ended 31 March, Adani Power reported its total consolidated revenue at INR133.08bn, a 93% increase year over year (YoY) from INR69.02bn. This was driven through a recent steep increase in global fuel prices, including coal, petroleum and natural gas.
Russia's invasion of Ukraine in February 2022 set off a supply crisis and led to the average price of electricity rising globally through the first quarter of the year. In India, the average market clearing price of electricity on exchanges rose to INR8.23 per kilowatt-hour (kWh).

This year, India recorded its hottest March in the last 122 years. Prime Minister Narendra Modi, in his address to state chief ministers, commented that "temperatures are rising rapidly in the country, and rising much earlier than usual". With the higher temperatures, electricity demand continued to grow strongly, contributing to Adani Power's increased earnings.
For Q4, the consolidated earnings before interest, tax, depreciation and amortisation (EBITDA) was calculated to be INB79.42bn, more than 270% higher YoY from INR21.43bn. For the full financial year, the consolidated EBITDA stood at INR137.89bn, approximately 30% higher than the 2021 earnings of INR105.97bn.
The average plant load factor (PLF) for the quarter, achieved through Adani's power plants, was 52.1%, at an aggregate sales volume of 13.1 billion units. Compared to the same period the previous year, the average PLF was 59.6% higher, with a sales volume of 14.8 billion units. The operating performance remained adversely affected by high coal import prices and plant overhauls.
On 16 March 2022, the company completed its acquisition of Essar Power M P Limited, which had earlier filed for insolvency. The latter's name has been changed to Mahan Energen Limited (MEL) and its addition to Adani Power's business umbrella has increased the company's installed thermal power generation capacity to 13,610MW.
Gautam Adani commented on the quarterly results:
"Availability of reliable power supply to various sectors across the nation is critical to India's economic growth. The Adani Group stands committed to fulfilling India's energy needs in a sustainable, reliable and affordable manner. Our diversified presence across the energy value chain helps us ensure that this vital input is always available to power the economy, even during times of global volatility, and helps advance the vision of progress and prosperity for all."
Leading India's decarbonisation in coal-fired assets
On 22 March, Adani Power announced it had signed a memorandum of understanding (MoU) with IHI Corporation and Kowa Company to forward a modification in its co-firing process to make it 'greener'.
The company is also attempting to study the feasibility of a modification to achieve a 20% liquid ammonia co-firing ration. Co-firing is the combustion of two different fuels to increase efficiency. If the modification is successful, further progression to 100% would be made for mono-firing.
| | |
| --- | --- |
| Long position overnight fee | -0.0308% |
| Short position overnight fee | -0.0137% |
| Overnight fee time | 22:00 (UTC) |
| Spread | 0.18 |
| | |
| --- | --- |
| Long position overnight fee | -0.0064% |
| Short position overnight fee | -0.0059% |
| Overnight fee time | 22:00 (UTC) |
| Spread | 0.07 |
| | |
| --- | --- |
| Long position overnight fee | -0.0308% |
| Short position overnight fee | -0.0137% |
| Overnight fee time | 22:00 (UTC) |
| Spread | 0.18 |
| | |
| --- | --- |
| Long position overnight fee | -0.0064% |
| Short position overnight fee | -0.0059% |
| Overnight fee time | 22:00 (UTC) |
| Spread | 0.13 |
Adani Power is leading India's initiatives to reduce its carbon footprint. If successful, the ammonia technology is likely to be implemented in other coal-firing units in the country.
The company is anticipated to benefit from IHI Corporation's expertise in the ammonia coal-firing technology, as the latter has already demonstrated this technique at a large-scale commercial coal-fired power plant in Japan. Similarly, Kowa has partnered with Adani Power to carry out global surveys regarding the feasibility of hydrogen and ammonia related technology being utilised for power generation.
This latest Adani Power share news aligns with the India-Japan Clean Energy Partnership (CEP) to promote energy cooperation between the two nations. Under the agreement, India aims to carry out research and development, demonstration and commercial implementation in line with Japan to achieve carbon neutrality and earlier implementation of a fuel ammonia supply chain.
Adani Group aims to become the world's largest renewable player by 2030. On 14 December 2021, its renewable energy arm, Adani Green Energy, signed an agreement with the Solar Energy Corporation of India (SECI) to supply 4,667MW of green power. At the time, it was touted as the world's largest ever green power purchase agreement.
Recent stock price movements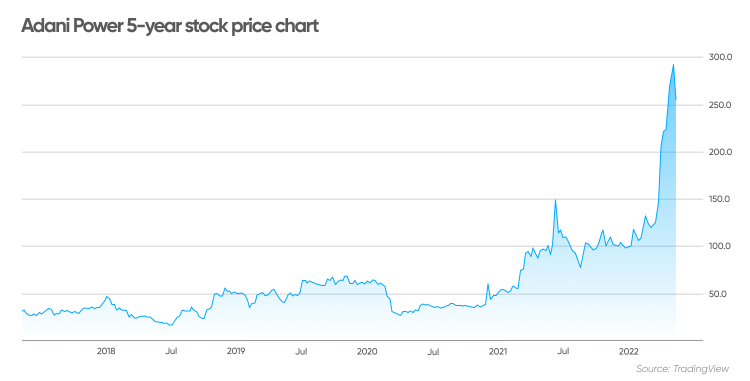 Adani Power's share price history shows the price has rallied by 164.11% year to date (YTD), from a closing price of IN4101.30 on 3 January to its last close of INR267.55 on 10 May. The global supply crisis amid inflating prices have benefitted Adani Power's stock prices.
In March alone, the stock price increased by 50.36% or 62 points. From INR123.10 on 2 March 2022, it climbed to INR185.10 by the end of month.
Avinash Gorakshkar, head of research at Profitmart Securities, spoke about the the price rally:
"Adani Power is India's largest private thermal power producer and in recent times, coal supply has been hit badly, leading to a rise in coal prices globally. Due to this, there are chances of price rises in both power and coal to continue as well. Hence, the market is expecting a margin benefit for Adani Power on its buffer coal stock. Apart from this, power consumption is expected to shoot up as the summer season has arrived and mercury levels have been scaling new highs."
Adani Power share price predictions for 2022 and beyond
Milan Vaishnav, consulting technical analyst at Gemstone Equity Research & Advisory, shared a technical analysis of the Adani Power share performance:
"The stock has seen a sharp up move from 132 levels to the high of 312 in just a matter of a couple of weeks. After marking the high point at 312, the stock is presently under corrective retracement. This is happening as a broad-ranged consolidation and the stock may remain in a trading range of 260 to 312. In the given technical setup, any fresh entry will not provide a respectable risk-reward ratio, for investors who are already invested in the stock may hold it while effectively trailing their stop losses. For any fresh entry, it should be considered either above 312 or when the stock shows any signs of ending the present consolidation."
As of 10 May, algorithm forecaster Wallet Investor's Adani Power share price target had it increasing to the range of INR388.428 to INR391.704 by December 2025. Its Adani Power share prediction for 2022 had the price closing the year at INR296.548.
Adani Power share analysis
Several equities analysts have issued comments on the Adani Power share value. Jatin Gohil from Reliance Securities expected share price to be INR350 in the near future.
"The key moving averages are sloping upwards on major time frame charts. The stock has the potential to explore uncharted territory, which could take it towards Rs 320 initially and Rs 350 subsequently. In case of any decline, the stock will find support around the Rs 225-215 zone. Any dips in the stock should be used as a buying opportunity."
Head of research at Swastika Investmart, Santosh Meena, provided a technical perspective on the Adani Power share trend and mentioned it was trading above all important averages. He further commented:
"It trades above its all-important moving averages and the counter is flying at its all-time high levels. On the downside, INR214 is an immediate demand level; below this, we can expect a free fall up to level of INR180."
Ravi Singh, vice president and head of research at Share India, shared that the fortune of power companies is expected to get a boost out of the rise in power demand:
"Analysing the recent volume price action in Adani Power, the volumes have been encouraging in the recent up move, indicating strong hands have started accumulating the stock at current levels and may touch the levels of 320-350 in the near future."
When looking at Adani Power share trend predictions, ​​it's important to bear in mind that analysts' forecasts and price targets can be wrong. Stock price predictions are based on making fundamental and technical studies of the stock's performance. Past performance is no guarantee of future results.
FAQs
Is Adani Power a good share to buy?

Adani Power stock has rallied by 164.11%, year to date. While most analysts have been bullish on the stock's forecasts, remember that analyst predictions are often wrong. Forecasts shouldn't be used as a substitute for your own research. Always conduct your own due diligence before investing, and never invest or trade money you cannot afford to lose.
Why has the Adani Power share price been rising?

Inflated coal prices, a global supply crisis and rising temperatures in the Indian subcontinent have all contributed to the recent rise in the Adani Power share price. In March 2022, the price increased by 50%, with investor confidence further boosted by its acquisition of Essar Power MP.
Will Adani Power share price go up or down?

According to an algorithmic-based application, Wallet Investor, the share price for Adani Power could go as high as INR391.704 by December 2025.

Note that analysts' forecasts can be wrong. Forecasts shouldn't be used as a substitute for your own research. Whether Adani Power shares are a buy, sell or hold for you depends on your investment objectives. It's important to reach your own conclusion on a company's prospects and the likelihood of achieving analysts' targets. And never invest or trade money you cannot afford to lose