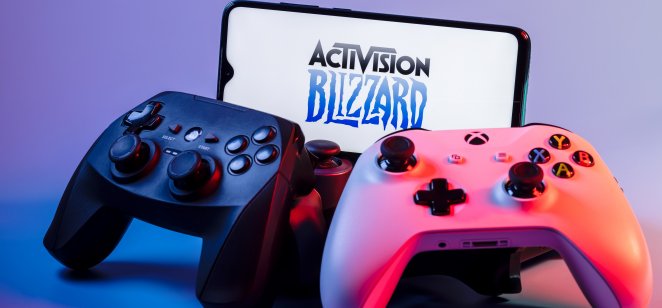 Content
Embattled US gaming company Activision Blizzard's share price plummeted in after-hours trading Tuesday as the company missed analysts' fourth-quarter and full-year 2022 projections.
The company's stock fell more than 9% on the Nasdaq Global Select Market after closing down 2.12% or $1.68, at $77.677. on the Nasdaq Global Select Market.
The company said in its third quarter earnings report that it expects to generate earnings per share (EPS) of 54 cents in the fourth quarter, while analysts projected earnings per share polled by Dow Jones had anticipated adjusted EPS of $1.38.
Projected EPS of $3.27
On a full-year basis, the company projected EPS of $3.27. The surveyed analysts predicted fourth-quarter adjusted EPS of 70 cents and full-year 2022 adjusted EPS of $3.83.
But Activision Blizzard's third-quarter EPS of 82 cents beat Dow-surveyed analyst expectations of adjusted EPS of 70 cents.
Net income rose 5.79% year-over-year to $639m from $604m. Revenue increased 6.7% to $2.07bn from $1.94bn and beat the company's prior forecast of $1.97bn.
New game delays
Investors appeared to cool to the company after it announced that it will delay launches of its Overwatch 2 and Diablo IV games.
Activision Blizzard has taken steps to improve its culture after facing several controversies this year surrounding employee claims of sexual harassment and discrimination.
"We are, of course, taking these actions because every single incident of wrongful conduct is unacceptable," said CEO Bobby Kotick on a conference call with analysts to discuss quarterly earnings.
CEO takes pay cut
Kotick recently announced that he will take a pay cut to the $62,500.
According to the Wall Street Journal, he earned $154.61m in 2020, ranking as second-highest-paid CEO in the country.
The move came after Kotick faced calls for his dismissal.
Kotick also announced recently that AB is launching a new zero-tolerance harassment policy and will allow employee sexual harassment and discrimination claims to proceed directly to court instead of requiring arbitration beforehand.
Harassment approach not adequate
"In the past, when we discovered and substantiated harassment, we terminated some employees and provided verbal or written warnings or different disciplinary actions to others," Kotick said in a letter to employees. "In retrospect, to achieve our goals for workplace excellence, this approach is no longer adequate."
He said the company requires tougher rules and consistent monitoring to ensure that reports are being handled correctly and appropriate discipline is swift.
Activision Blizzard is facing a civil action lawsuit filed in July by the California Department of Fair Employment and Housing. In September, the company agreed to pay $18 million to settle an investigation launched by the Equal Employment Opportunity Commission.
Hiring more women
The company has also pledged to increase the percentage of women and non-binary employees by 50% and introduced a $250m programme aimed at recruiting diverse talent to the gaming industry.
In September, company employees filed an unfair labour practices complaint with the National Labour Relations Board (NLRB). The complaint, filed by the Communications Workers of America, alleges the maker of Call of Duty franchise "threatened employees that they cannot talk about or communicate about wages, hours and working conditions."
| | |
| --- | --- |
| Long position overnight fee | -0.0500% |
| Short position overnight fee | 0.0140% |
| Overnight fee time | 21:00 (UTC) |
| Spread | 0.00600 |
| | |
| --- | --- |
| Long position overnight fee | -0.0136% |
| Short position overnight fee | 0.0041% |
| Overnight fee time | 21:00 (UTC) |
| Spread | 1.5 |
| | |
| --- | --- |
| Long position overnight fee | -0.0050% |
| Short position overnight fee | 0.0018% |
| Overnight fee time | 21:00 (UTC) |
| Spread | 0.18 |
| | |
| --- | --- |
| Long position overnight fee | -0.0500% |
| Short position overnight fee | 0.0140% |
| Overnight fee time | 21:00 (UTC) |
| Spread | 60.00 |
In addition, the complaint contended that the Santa Monica, California-based company "engaged in surveillance" and "interrogation" of employees seeking better working conditions and also enforced "an overly broad social media policy" against them.
Complaint followed mass walkout
The complaint came after more than 2,000 employees staged a mass one-day walkout and the California Department of Fair Employment and Housing sued the company and its subsidiary Blizzard Entertainment in July.
The lawsuit alleges Activision Blizzard has a "frat boy culture" – making a reference to university fraternities – and is "a breeding ground for harassment and discrimination against women."
For example, the complaint claims so-called "cube crawls" were common and that "male employees proudly came into work hungover."
Women only 20% of workforce
The suit further claims women make up only 20% of the company's workforce, while females comprise half of the gamers in the US.
Blizzard Entertainment president J. Allen Brack subsequently resigned in early August after his letter to employees in response to the lawsuit was heavily criticised. Two new co-leaders, former vice-presidents Jen O'Neal and general manager Mike Ybarra, were appointed to run Blizzard Entertainment, but O'Neal announced her departure from the company this week.
In wake of the NLRB complaint, the company hired two senior executives, Julie Hodges, who became chief people officer, and Sandeep Dube, the new chief commercial officer, from outside the company in September to help it "build a more inclusive workplace as well as diversify and grow its revenue," according to a news release. Hodges and Dube arrived from Walt Disney and Delta Air Lines, respectively, two high-profile companies with thousands of employees.
Hodges replaced Claudine Naughton, who left the company for undisclosed reasons.
Read More: Top crypto prosecutor being hired by US Justice Department
The difference between stocks and CFDs:
The main difference between CFD trading and stock trading is that you don't own the underlying stock when you trade on an individual stock CFD.
With CFDs, you never actually buy or sell the underlying asset that you've chosen to trade. You can still benefit if the market moves in your favour, or make a loss if it moves against you.
However, with traditional stock trading you enter a contract to exchange the legal ownership of the individual shares for money, and you own this equity.
CFDs are leveraged products, which means that you only need to deposit a percentage of the full value of the CFD trade in order to open a position. But with traditional stock trading, you buy the shares for the full amount. In the UK, there is no stamp duty on CFD trading, but there is when you buy stocks.
CFDs attract overnight costs to hold the trades, (unless you use 1-1 leverage) which makes them more suited to short-term trading opportunities. Stocks are more normally bought and held for longer. You might also pay a stockbroker commission or fees when buying and selling stocks.