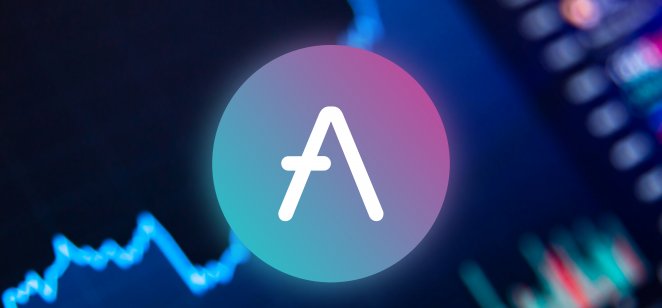 Decentralised finance lending platform Aave (AAVE) has posted strong gains recently. Its native token, AAVE, has gained nearly 100% in the past month. The token bounced back from one-year lows in March 2022 after the release of its version 3 (v3) upgrade that has fuelled risk-on sentiment for the Ethereum-based liquidity protocol.
In this article, we discuss the Aave protocol, dive deep into the AAVE token price action and read analysts' commentary to draft a plausible Aave price prediction for 2022 and beyond.

AAVE outlook: Aave v3 launch
Aave is a cryptocurrency liquidity market protocol where users can participate as depositors or borrowers. Users can deposit their cryptocurrency tokens to provide liquidity to the market and earn interest on them.
Aave users can also borrow stablecoins and cryptocurrencies without know-your-customer (KYC) requirements or credit scores. Borrowers need to deposit their cryptocurrency assets as collateral. The maximum available amount that a person can borrow will depend on variables such as available liquidity and loan-to-value (LTV) ratios.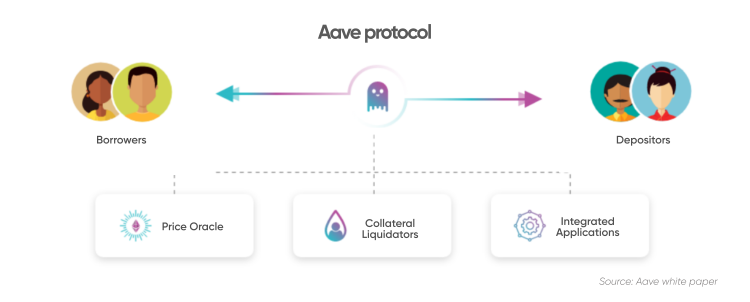 Aave, along with the likes of Uniswap (UNI), Compound (COMP) and Curve, is considered one of Ethereum's blue-chip DeFi protocols. Aave is also deployed on layer-1 network Avalanche (AVAX) and Ethereum's layer 2 protocol Polygon (MATIC).
According to DeFi total value locked (TVL) aggregator DefiiLlama, the Aave protocol has the fifth highest TVL across all blockchain at $14.3bn, as of 4 April. Aave protocol is currently the top DeFi platform in terms of TVL on Avalanche and Polygon.
Aave protocol has seen a 26% spike in its TVL over the last month on growing optimism over its latest upgrade, Aave v3, which is designed to unlock higher yields for liquidity providers, maximise borrowing powers for users and promote the network's growth on layer 2 networks.
'Portal' will be a new feature for the Aave protocol. It can be used to supply cryptocurrencies across Aave markets on different networks. Aave will burn aTokens on the source network whilst minting corresponding aTokens on the destination network. The underlying assets will move to and from the Aave protocol through a bridge.
"Despite operating in a multichain environment on Avalanche and Polygon, core activities remained on the increasingly congested Ethereum network. As such, Aave has always been at the whim of the Ethereum blockchain and its ever-increasing
gas fees
. The introduction of V3 aims to solve this problem for users and Aave themselves," said DappRadar in a
report
published on 30 March 2022.
Aave v3 will introduce 'isolation mode' aimed at increasing capital efficiencies for borrowers. Via isolation mode, new assets introduced on the protocol can be listed as 'isolated', meaning that borrowers supplying an isolated asset as collateral can only borrow stablecoins permitted by Aave. 'High Efficiency Mode' will allow users the highest borrowing power out of their collateral.
The protocol upgrade introduces supply and borrow caps designed to reduce exposure to certain assets and mitigate risk such as infinite minting or price oracle manipulation. The introduction of 'granular borrowing power control' allows Aave governance to lower the borrowing power of an asset to as low as 0% when the risk profile of that particular asset changes, without impacting existing borrowers. The 'Price oracle sentinel' feature on Aave V3 will introduce grace periods for liquidations and the ability to disable borrowing under specific conditions. According to Aave, this feature is designed for L2 networks like Polygon to handle eventual downtime of sequencers or centralised block producers.
"Some of the features here (Aave v3) are genuinely brilliant for those with a keener eye for details, especially how Aave will use its aTokens to deal with bridging assets across chains. Additionally, it's interesting to see a powerhouse like Aave going all-in on Layer-2, focussing serious efforts there and arguably outlining the future of DeFi," said DappRadar.
Aave's proposal to upgrade its protocol was passed unanimously by its community. Following Aave v3's mainnet launch on 16 March, AAVE token surged as much as 114% to a near three-month high of $261.29 hit on 1 April 2022.
Aave price analysis: AAVE chart today
As of 4 April, AAVE is the 47th-largest cryptocurrency network with a market capitalisation of over $3.34bn. AAVE's all-time high stands at $666.86, which it hit on 18 May 2021. Since then AAVE has been on a downward trajectory and is about 63% below its record level. The token's 52-week low is $113.
At a current price of about $245 (as of 4 April), over 67% of AAVE holding addresses are "out of the money", which means they are currently holding AAVE at a loss, data from analytics firm IntoTheBlock showed.
More recently, AAVE prices have rallied alongside the broader cryptocurrency market, with prices jumping over 98.9% in the past month, according to CoinMarketCap.
However, the recent surge has not been enough for the AAVE cryptocurrency to post positive returns in 2022. The DeFi crypto is down by about 8% year-to-date, as of 4 April.
At the time of writing (4 April), data from CoinCodex showed AAVE's 50-day and 200-day exponential moving averages (EMA) were $162,94 and $213.30, respectively, both indicating a 'buy'. AAVE's 14-day relative strength index (RSI) was at 74.8, signalling an 'overbought' asset.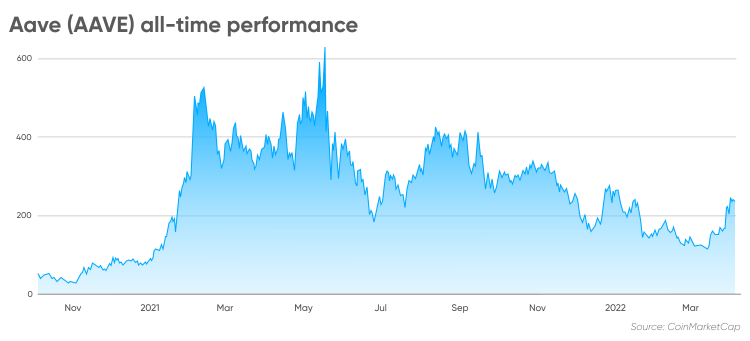 What is your sentiment on AAVE/USD?
Vote to see Traders sentiment!
What is AAVE coin?
AAVE token is the governance token for the multi-chain DeFi protocol Aave. AAVE token holders have the power to vote and decide the outcome of improvement proposals on Aave such as listing new assets on the platform. Token holders can stake their AAVE coins and earn staking rewards and fees from the protocol.
According to Aave, locked AAVE tokens will be used as a mitigation tool in case of an event of a deficit in liquidity in the Aave protocol.
"In the instance of a Shortfall Event, part of the locked AAVE are auctioned on the market to be sold against the assets needed to mitigate the occurred deficit," said Aave. As of 4 April, AAVE tokens worth over $1bn are locked under the Aave Safety Module.
In September 2017, Aave, which was then known as 'ETHLend', raised about $600k pre-sale from its token sale. This was followed by a $16.2m initial coin offering, where one billion LEND tokens were sold. The LEND cryptocurrency was converted to AAVE tokens at the rate of 100 LEND to 1 AAVE, as EthLEND rebranded to Aave.
AAVE's maximum supply is capped at 16 million tokens. Currently, the circulating supply of AAVE coins stands at over 13.6 million, data from CoinMarketCap showed.
As of 4 April 2022, AAVE had a high concentration of whales (holders that own over 1% of a token's circulating supply), coming in at 67.8% – over 10.8 million AAVE tokens of the total circulating supply – according to crypto analytics company IntoTheBlock.
AAVE crypto news: Aave Arc, Lens Protocol and more
Aave has undergone several important developments, which may drive the AAVE coin future target price:
In March 2021, the Aave Protocol announced the launch of the automated market maker (AMM) liquidity pool, to allow liquidity providers such as Uniswap (UNI) and Balancer to use their LP tokens as collateral on the Aave Protocol.

In November 2021, Aave Protocol launched Aave Arc, a cryptocurrency lending and liquidity service for institutional markets where users will have to undergo KYC requirements during onboarding procedures.

In February 2022, Aave launched a decentralised social media platform called Lens Protocol on the Polygon network.

In March 2022, Aave was selected by the Central Bank of Brazil, along with eight other partners, to develop Brazil's central bank digital currency (CBDC).
Aave (AAVE) price prediction: Targets for 2022, 2025 and 2030
According to a short-term AAVE prediction from CoinCodex, as of 4 April, the value of the token could fall by 2.8% to $237.63 by 9 April. CoinCodex added that technical indicators showed current sentiment was 'bullish', while the fear and greed index indicated 'neutral'.
"Based on our AAVE forecast, now is a good time to buy AAVE," said CoinCodex.
AAVE crypto price prediction from Wallet Investor said: "Our AI cryptocurrency analyst implies that there will be a negative trend in the future and the AAVE are not a good investment for making money." Wallet Investor expected AAVE value to drop to an average price of $64.969 by the end of 2022, bottom at $9.773 by the end of 2023 and rebound to $​​40.148 by the end of 2025. Its five-year AAVE coin price prediction suggested the cryptocurrency could trade at $14.024 in March 2027.
According to Price Prediction's AAVE/USD forecast, AAVE could hit an average price of $218.43 in 2022, $308.30 in 2023, $650.85 in 2025 and $4,132.96 by 2030.
According to Digital Coin's AAVE crypto price prediction, the token could trade at an average price of $308.90 in 2022. Its AAVE prediction suggested the token could hit an average price of $440.48 in 2025 and about $1,077.26 in 2030.
When looking for AAVE future projection, bear in mind that analysts' and algorithm-based AAVE crypto price predictions can be wrong. Their expectations are based on fundamental and technical studies of the cryptocurrency's past performance, which offers no guarantee of future results.
It's essential to do your own research. Always remember that your decision to trade depends on your attitude to risk, your expertise in the market, and your investment portfolio spread. You should never trade money that you cannot afford to lose.
FAQs
Is AAVE coin a good investment?

Aave is a robust DeFi protocol ranked 11 in the list of top DeFi tokens by market capitalisation, according to CoinMarketCap as of 4 April 2022. Although the token has not shown gains YTD, its monthly performance is bullish, driven by the launch of Aave V3 update.

Whether the AAVE token is a good fit for your investment portfolio depends on your circumstances and risk tolerance. You should estimate the level of risk you are ready to take and conduct a thorough analysis of Aave cryptocurrency prospects.
Can AAVE crypto hit $1,000?

According to AAVE price prediction from Price Prediction as of 4 April, the token could surpass $1,000 by 2027 and reach an average target price of $1,308.84.
How many AAVE coins are there?

According to CoinMarketCap, the circulating supply of AAVE coins, as of 4 April, was 13.67 million, of the total supply of 16 million.
How high can AAVE go?

AAVE future price prediction from Wallet Investor was bearish as of 4 April. Meanwhile, Price Prediction expected the AAVE cryptocurrency could hit an average price of $218.43 in 2022, growing to $650.85 in 2025 and rising further to $4,132.96 by 2030.